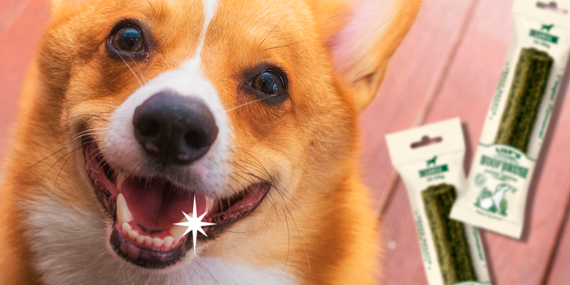 To coincide with Pet Dental Health Month in February and Valentine's Day, natural pet food brand Lily's Kitchen has created 'the ultimate Doggy Dentist experience' for dogs by opening a pop-up Doggy Dentist in Notting Hill, London.
According to Lily's Kitchen research:
> Fewer than half of dog owners take their dog for an annual dental inspection
> Over half believe their dog suffers from bad breath
> A third wouldn't know what to do if their dog had a dental issue
Lily's Kitchen Doggy Dentist is no ordinary vet.
Pets will experience a canine-friendly check-in, in which pets and their owners will be greeted by a receptionist who will guide them through a series of short and snappy questions (including some fun ones!) to ensure the vet has all the important dental details.
Then in a petting room, this is where the real fun begins, said a spokesperson. She said: "No more nervous panting in the waiting room, it's playtime! 'Play buddies' will keep dogs entertained hunting for Woofbrush rewards in the ball pool while owners learn all about the science behind Lily's Kitchen's innovative, natural dental chew and how best to care for their dog's teeth via an interactive quiz and fun fact-trail."
At the check-up, dogs will be able watch squirrels on a TV screen as the vet takes a peep at their teeth. As well as best dental care practice advice for canine companions, each dog will receive a Woofbrush to make sure they're selfie ready.
Finally, dogs and the owners can stop by a photobooth and have their dog pose for a snap for the Hollywoof Hall of Fame.
The spokesperson said: "Photos will be sent directly to your smartphone for you to share with all your pup's adoring fans on social media, and can also be printed on site for you to put on your fridge back home."
Henrietta Morrison, founder of Lily's Kitchen, said: "Keeping dogs' teeth in good condition is really important and very much part of being a responsible pet owner. However many don't feel confident about how to properly brush their dog's teeth or know where to get advice on good canine dental practice. It can be a bit embarrassing when the vet looks at your dog's teeth and says we should be doing a much better job.
"Which is why we have created our unique Doggy Dentist pop up. We want to give dog owners lots of tips and tricks to ensure their dog's teeth are in tip top condition. We think it will be the best dental experience they've ever have and what better time to do it than Pet Dental Health Month!"
Pet owners can book their visit to the Lily's Kitchen Doggy Dentist in advance, which will be located at 297 Westbourne Grove, London W11 2QA, and run from Thursday, February 13, to Sunday, February 16.
Every Doggy Dentist visitor will get to take home Lily's Kitchen Woofbrush dental chews.