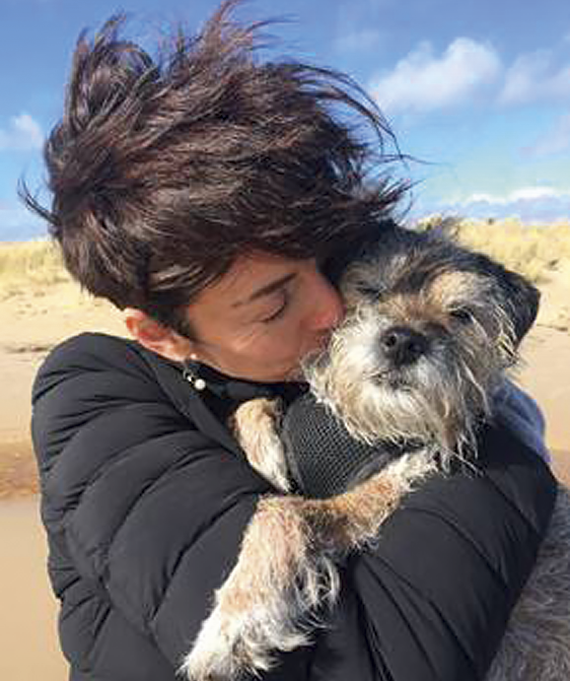 Lily with pet food founder Henrietta Morrison
Lily the border terrier, the inspiration behind leading pet food brand Lily's Kitchen and pet of founder Henrietta Morrison, has died at the grand old age of 17.
"Our beloved inspiration, Lily, has passed away," Henrietta said. "As most of you know she reached the grand age of 17 last month. We loved her so much and in some way imagined she would be with us forever.
"The unconditional love you feel from your dog is unlike anything in life. I'm grateful that she died very peacefully; we filled her bed with beautiful flowers from my garden. We knew that the inevitable time had arrived and for her sake, we tried to be brave.
"Lily was home and family for me and I will miss her terribly and am heartbroken without her. I can hear her snoozing next to my desk and her paws pattering around the house. Everything feels very quiet now. She touched the hearts of all who knew her and was a dog on a mission – to change lives and make a difference. I know she is proud of the legacy she has left behind.
"Like all beloved family members who have passed on, she is a light that will never go out. I will miss her every day for the rest of my life."
Lily was the inspiration behind Lily's Kitchen, after the then three-year-old border terrier fell ill and refused to eat, prompting Henrietta to begin cooking meals for her with fresh, natural ingredients. Working with vets, nutritionists and herbalists, Henrietta went on to establish Lily's Kitchen in 2009, which has since grown to become the UK's No.1 ethical pet food company.