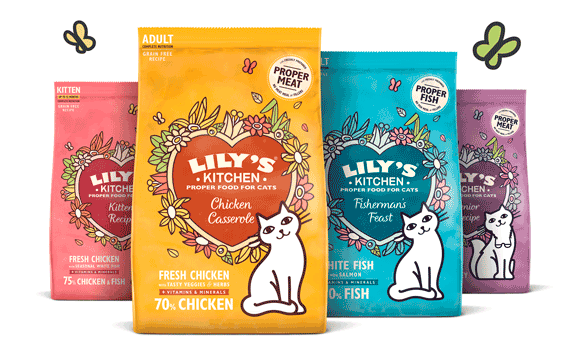 Natural Pet food company Lily's Kitchen is launching its new-look, revamped dry dog and cat food online and into pet stores at the end of July.
The refreshed dog and cat ranges have been two years in the making and combine recipe improvements with new-look packaging designed to bring the dry food ranges in line with the look and feel of the brand's wet food range, which was updated in 2019.
Lily's Kitchen says the packaging features a more contemporary design, with more vibrant pack colours and more prominent signposting for owners, including 'Proper Meat' and 'Proper Fish'. There is also clear life-stage information (Puppy, Kitten, Adult and Senior) and natural ingredients and their benefits are shown on back of pack in an easy-to-follow format.
Recipe improvements include more fresh meat and fish in the cat recipes with resulting higher levels of taurine, and the new dry dog range is designed to be 'even tastier' and is full of vitamin-rich antioxidants.
Another change is the new food-focused recipe names, such as Shepherd's Pie, Wild Woodland Walk and Fisherman's Feast, plus there is a completely new addition to the dog range with Lily's Kitchen Salmon Supper with Sweet Potato for dogs.
This recipe is ideal for dogs with intolerances, made from 40% salmon to be gentle on the digestion. It is also high in protein and omega 3.
Announcing details of the new ranges, David Milner, CEO of Lily's Kitchen, said: "We're extremely excited to unveil our new look and even better tasting dry cat and dry dog food ranges, which our dedicated team has spent the past two years planning.
"At Lily's Kitchen we have always regularly reviewed our recipes to ensure they are the very best they can possibly be, identifying and introducing new, high-quality ingredients, ensuring greater palatability and above all, focusing on making natural, nutritious and complete recipes that dogs and cats love and enjoy.
"Our office pups and kittens have really enjoyed tasting the new and improved recipes – and have definitely given them the paw of approval!"