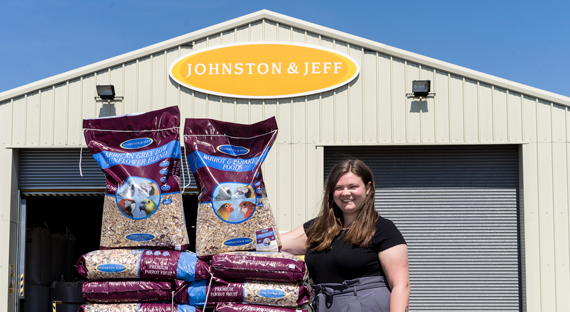 Maddy Johnston with some of the parrot food Johnston & Jeff donated to four parrot rescue and rehoming centres
Premium bird food manufacturer Johnston & Jeff has flown to the aid of four parrot rescue and rehoming centres hit by the coronavirus.
The Yorkshire-based manufacturer has donated more than a tonne of its Parrot Lean & Fit and Low Sunflower for Large Parrots blends to Birdline Parrot Rescue, Problem Parrots, All Star Parrots, and Safe Haven Refuge.
Maddy Johnston, marketing and media manager at Johnston & Jeff, says it is incredibly important to support bird rescue charities and sanctuaries during the covid-19 crisis because the vital work they do has to continue.
"The pandemic has had a huge impact on animal welfare and rescue charities," she said. "With household incomes hit hard, many birds have sadly been relinquished, therefore increasing feed and veterinary costs.
SUPPORT
"Charities are doing all they can but, with fundraising activities also restricted, they need our support to ensure their birds are happy, healthy and well fed.
"As a company, we couldn't just stand by and watch that happen so we decided to donate food to some of the centres we know, to do our bit in helping them continue providing care to their parrots."
Staff from Johnston & Jeff delivered the food free of charge to the charities, while ensuring they stuck to government guidelines over social distancing.
The business is currently looking into making further donations as the crisis continues.
Steve Jones, welfare director at Problem Parrots, thanked Johnston & Jeff for the donation.
"It's great to see the company recognising the challenges rescue charities like Problem Parrots are facing at this challenging time," he said. "By donating this feed, they are helping us to continue doing what we always strive to do – provide the best possible care to the parrots we look after. It is very much appreciated."
As well as helping rescue centres to continue caring for parrots, Johnston & Jeff has been helping bird fans young and old keep entertained throughout lockdown.
The company has produced free downloadable wall charts to help people identify the birds in their gardens, and have produced a photo casebook of origami birds for people to attempt and line drawings for children (and adults!) to colour in.
To download these, go to www.johnstonandjeff.co.uk/latest_news.php