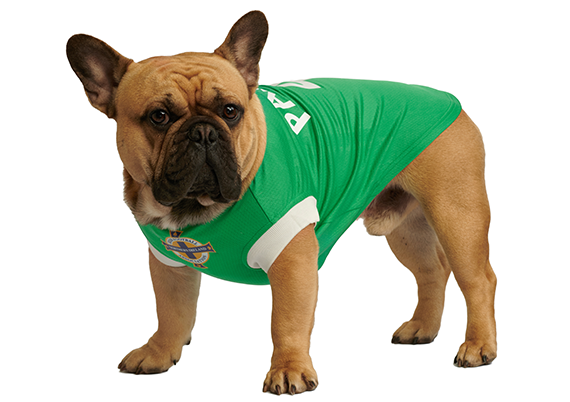 Urban Pup has introduced a new range of pet accessories endorsed by the Irish Football Association.
The Bangor-based business, which produces designer clothes for dogs, has just signed up as the official licensed partner of the association.
Urban Pup spent six months fine-tuning the range, which includes Northern Ireland-branded dog clothes, including jerseys, along with harnesses, leads and collars – based on the iconic 1967 shirt worn by George Best at the height of his powers when his skill stunned the world.
Stephen Bogle, head of sales and marketing at the Irish FA, said: "I would like to welcome Urban Pup to our growing list of official licensees. We're delighted with the final products and I'm sure the GAWA will love this fantastic new range designed with their dogs in mind.
"By purchasing through official partners such as Urban Pup it helps the Irish FA to continue to invest in and develop the grassroots game across the country."
Denis Kelly, the Co Down company's managing director, is excited by the tie-up with the Irish FA.
"When we were first approached by the IFA to design a range of shirts and accessories forman's and woman's best friend it was definitely one of those 'Wow!' moments.
"As a lifelong fan it was very exciting to be involved with the Northern Ireland international teams and to be able to create something that was, shall we say, a little bit different from the norm.
"We are incredibly proud and pleased with the range. We are sure that the fans will love them  just as much as we do and will enjoy seeing their dogs in a personalised shirt or taking them for a walk in their Northern Ireland harness or collar and lead set."