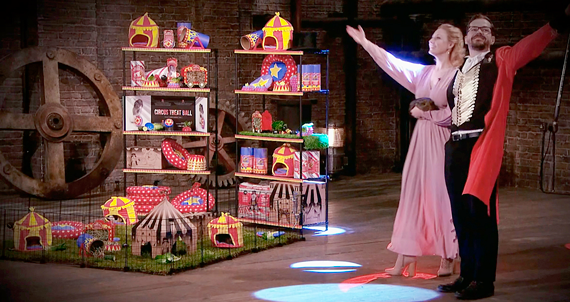 Helen and Rik Cridland in the 'Drogons' Den'
Small animal accessories brand HayPigs! is appearing on TV's 'Dragons' Den' this Thursday (April 29).
HayPigs! was founded in 2017 by husband and wife team Rik and Helen Cridland, who were inspired to start their company after adopting a pair of guinea pigs from their local rescue.
As they enter the Den on Thursday night's programme – on BBC1 at 8pm – HayPigs! will be hoping to secure investment from the Dragons.
This 'feel good' family business designs and produces a range of circus-themed 'enrichment' toys for guinea pigs and other small animals. The couple's 'wacky and wonderful' designs include a cannonball-themed tilting tunnel, a barbell that functions as a vegetable kebab maker and a circus big top-inspired fleece hidey hut.