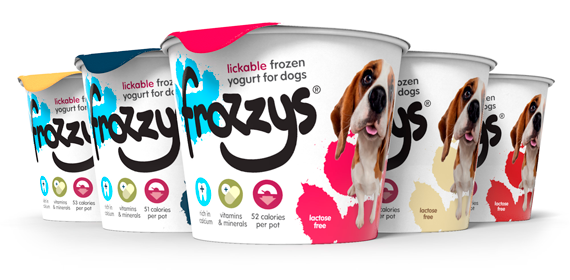 A lickable frozen yogurt for dogs, created by Frozzys, has secured listings with leading pet specialist retailers in South Korea – the brand's first venture into the rapidly-expanding pet care category in Asia.
A 'significant' agreement between Frozzys and Ahns Group, a leading distributor in the South Korean capital, Seoul, includes listings with online retailer Market Kurly, the equivalent of Amazon Fresh, as well as Molly's Pet Shop across the country.
Frozzys has been working on growing its export business after exhibiting at global pet trade show Zoomark, in Italy, last year. With the growing global humanisation trend and a demand for more natural dog products, Frozzys believes it is ideally placed to take the brand to dogs all over the world.
EXCITED
Director Michael Hunt said: "We are very excited about our partnership and bringing our frozen yogurt for dogs to the South Korean market. Our first shipment has been for over £40,000 and we are confident that this will be the start of a successful, long-term partnership. There is a demand for premium, natural and healthy products for dogs across the world and Frozzys perfectly fits this demand."
Frozzys was developed in 2013 after research in collaboration with Northern Ireland's College for Agriculture Food & Rural Enterprise. Since then the brand has grown year on year and built up a following of dogs and customers within the pet specialist and dog-friendly hospitality sectors across the UK and Ireland.
Frozzys is low in fat, sugar and calories and is lactose-free, is made with 100% natural ingredients and includes vitamins, minerals and prebiotic fibre.
On average, it takes a dog 10-15 minutes to consume a single pot of Frozzy's yogurt, the makers say, limiting the dog's calories and fat, without limiting 'the mental stimulation and enjoyment that treats can provide'.
It is available in five tasty flavours – strawberry, original, blueberry, cranberry and peach – and comes in 85g tubs and four-packs.