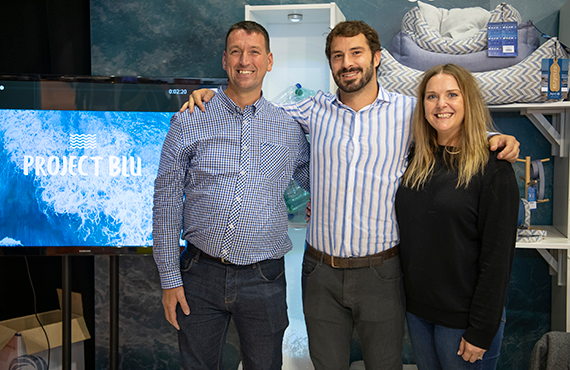 Eco pet company Project Blu has secured a multi-million pound deal with an American venture capital firm dedicated to helping start-up businesses grow quickly.
The deal will see San Diego-based Metamorphosis take an equity stake in Project Blu, which was founded in 2019 by 35-year-old Geryn Evans.
Project Blu launched onto the UK pet market at PATS Telford 2019 where it won the inaugural Green New Product Award, sponsored by pbwnews. The firm aims to reduce global ocean-bound plastic waste, and the broader environmental impact of manufacturing pet products, through harnessing innovative textiles and technologies.
The company has sold over 87,000 pet products made from more than six million plastic bottles since it was founded. Its range includes leads, harnesses, pet beds and toys.
The firm has been assisted by the Business Wales Accelerated Growth Programme, which provides targeted support for ambitious growing firms, and has also received funding from Mars Petcare, which awarded it a place on the Leap Venture Studio accelerator programme in Los Angeles.
The latest deal will allow the company to harness the expertise of Metamorphosis' team of experts and entrepreneurs with a proven track record of building businesses in the worldwide pet industry.
Describing the deal as a game-changer, Geryn Evans said: "Project Blu is all about driving positive change in an industry that was ripe for disruption. We aim to prove that pet brands can be sustainable, stylish and profitable on a global scale, and this partnership will be a crucial part of our plan to expand into several international markets in 2021.
"The pet industry is a growing, recession-resistant market where sustainability is one of the biggest emerging trends for pet owners who are increasingly conscious of how products are made and where they end up.
"We are incredibly excited about partnering with one of the biggest players in the marketplace, and we are looking forward to tapping into the knowledge and expertise of the Metamorphosis team to build our brand in the lucrative North American market and beyond."