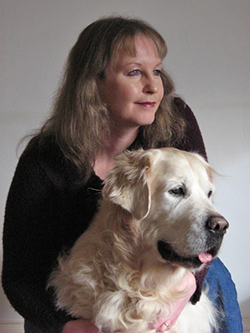 Tributes have been pouring in to the late Catherine O'Driscoll, founder of Canine Health Concern in 1994 and the Pet Welfare Alliance in 2010.
Caroline Griffith, pet industry nutrition consultant and currently working with Naked Dog, hosted an online memorial event to coincide with Catherine's funeral being held on the Scottish Borders on November 23. Caroline's aim was to bring the community of dog owners that loved Catherine's work together at the same time in her honour.
With more than 145 subscribed to the online tribute, a few minutes' silence was observed and a discussion on some of Catherine's favourite topics in natural pet care was held with well-known vet Dr Nick Thompson. Many posted a few words, too, which were read out throughout the memorial.
As a big fan of raw and fresh food for pets, one of Catherine's most wewll-loved books, 'Shock to the System', was discussed, as well as her DVD on natural pet care – crowd-funded before crowd-funding was even officially titled!
The CHC store was one of the best-researched and stocked online stores in terms of natural supplements, Caroline said, with everything from worming to skin health and eye drops to natural remedies for kennel cough. It is very much hoped the store will continue to run in some fashion.
Dr Nick Thompson described Catherine as 'almost a force of nature, driven ( to highlight natural pet care) and always willing to listen, talk and encourage'.
Caroline told pbwnews: "Catherine was a total inspiration for me; I certainly wouldn't be doing the job I do with the support of CHC in the early days."
The event was 'attended' by many pet food retailers, including Julie Arnold, of Naturally Healthy Pets, Hertfordshire, and Deborah Burrows, of the recently expanded Healthy Pet Store, Totton.
More about Catherine's lifetime of work, and all her published books can be found on the website www.canine-health-concern.org