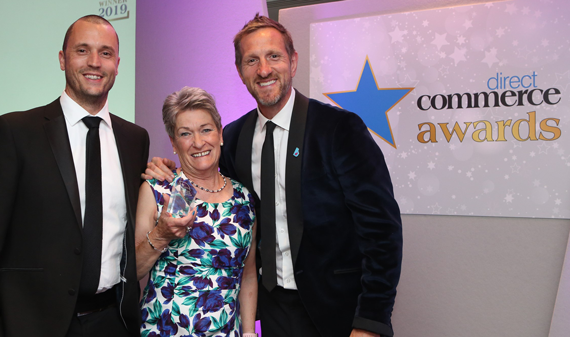 (L-R) Ben Boughton-White, operations director; Mary Boughton, quality control director; and Will Greenwood
Dorwest Herbs was named the Best Overall Niche Brand B2B in the National Direct Commerce Awards 2019.
The awards, held at Twickenham Stadium this month and presented by Will Greenwood, were judged judged on areas such as branding, positioning, range, USP, customer guarantee, CRM and overall achievements.
The judges praised Dorwest, a family-run business established for more than 70 years and now in its third generation, for its 'huge progress in overall brand development and execution'.
They said: "It looks like a great business, with heritage and a well-defined proposition. It's great to see such an established family business reinventing itself in a contemporary and relevant way. The new leadership team should be proud."
The West Country business's operations director, Ben Boughton-White, said: "It's a great honour for Dorwest to be recognised with this award in among other leading UK companies.
All awards are team efforts and this is an acknowledgement to all the talented and committed people we work with at Dorwest, and the many dedicated customers who support us in the pet industry."
The leading maker of canine and feline herbal medicines and supplements range was also judged on proposition, business development and potential.
The Direct Commerce Association was founded in 2004 by retail business owners.