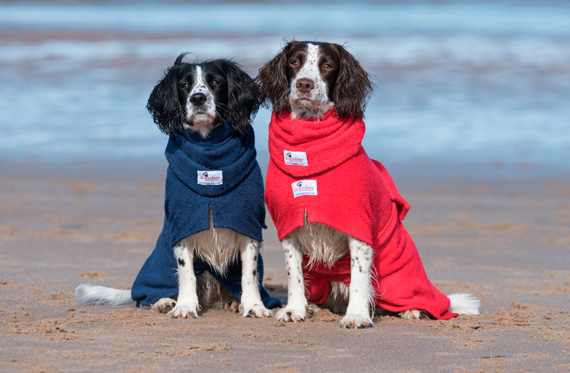 Award-winning pet accessory business Dogrobes has signed contracts with two distributors, to further increase sales of its range of dog drying coats soar this year.
Dogrobes will now be distributed by the UK arm of Orvis, an American, family-owned retail and mail-order business specialising in high-end fly fishing, hunting and sporting goods as well as pet accessories and treats for dogs.
Dogrobes' second contract is with family business and wholesaler IMS Europe, which was set up in 1992 to sell to the healthcare sector in countries outside the UK and now also specialises in the distribution of products to the veterinary sector. This will see Dogrobes being used more in a clinical environment to dry dogs and also being sold in veterinary practices throughout the UK and overseas.
Dogrobes, based in Fochabers, Scotland, is owned by Margaret Reynolds, a former marketing and events manager. When she became an 'empty nester' and saw the potential, she decided to take over the company when the founder retired.
AWARDS
Since taking over the business, Margaret has gone on to win the Moray Business Women – Most Enterprising Business Award, which also put her through to the Association of Scottish Business Women Annual Awards in the same category that she won two years ago! Dogrobes also won K9 magazine's Best New Design to a Pet Essential for its Tartan Dogrobe 2017 then in 2018 won again for the Camouflage range.
Dogrobes are now sold in more than 70 UK stockists and are exported to Europe, the US and Canada, as well as Australia and New Zealand.
Margaret said: "We are very proud that we're made in Britain. We have two larger manufacturers and two other smaller manufacturers who are all based in Scotland. We also use a team of talented and up and coming designers to design our Exclusive Collection."
RETAILERS
The company also offers a range of complementary dog accessories to go with the Dogrobes including snoods to dry the dog's head, neck and ears.
"Dogrobes are the perfect items for retailers to stock," Margaret added. "As well as being practical they also make the perfect gift for any dog owner. With the summer holidays on the horizon, they are a great pet accessory to take with you for those days on the beach, picnics and any long walk out in the countryside. They also help to keep cars clean from wet, muddy shake-off.
"Dogs love their Dogrobes and we're often told stories from customers about dogs sitting with their heads up waiting for the Dogrobe to go on!"