Award-winning pet accessories company Dogrobes is helping to support two permanent jobs at Haven PTS, in Larbert, near Falkirk, in Scotland, by using the company to manufacture its dog drying coats.
Haven is part of Momentum and the wider Rehab Group, a not-for-profit organisation providing rehabilitation, training and care services for disabled and 'socially-excluded' people throughout the UK. Haven operates from a number of key sites across Scotland, delivering services to a client list ranging from international blue chip firms to local businesses.
Haven PTS is part of a thriving textile industry in Scotland, which, according to Scottish Development International, exports textiles to 150 countries worldwide. It is expected that by 2020 the value of Scottish textiles will reach £500m and this will be supported by a £3.5m research budget for the industry.
Dogrobes owner Margaret Reynolds, said: "Haven PTS met all our requirements. They manufacture to a high quality standard, have a skilled workforce in the textile industry and are able to produce the quantity that we require.
PROUD
"We are very proud that Dogrobes carry the Made in Britain standard and, although it costs us more to manufacture in the UK, we are delighted that we are able to keep the manufacturing process in this country and support a business that provides meaningful jobs, on-going training and development opportunities for people with disabilities and those marginalised in society. The Made in Britain standard gives prestige to our product range."
Fochabers-based Dogrobes provides products for drying wet muddy dogs and protecting surroundings from shake-off.
The company uses use a team of 'talented and up-and-coming designers' to design its Exclusive Collection and offers a range of complementary dog accessories to go with the Dogrobes, including snoods to dry the dog's head, neck and ears. It has also recently introduced new gauntlets, which are worn on the hands and help to dry the dog's legs and paws.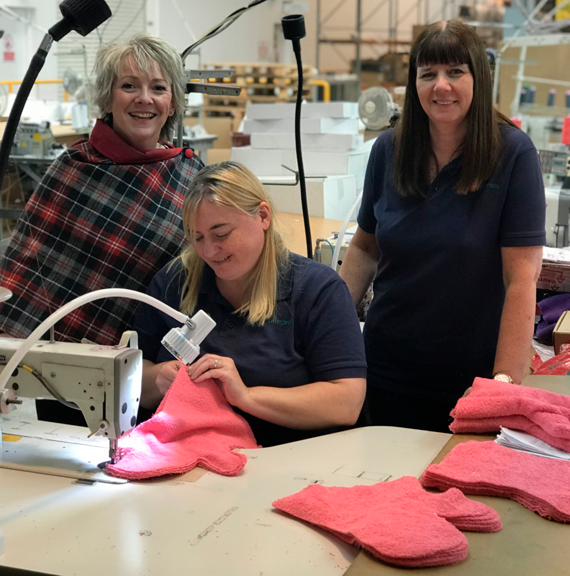 Margaret Reynolds, of Dogrobes, Barbara Marshall (standing) and Alison Ellis (seated), of Haven PTS