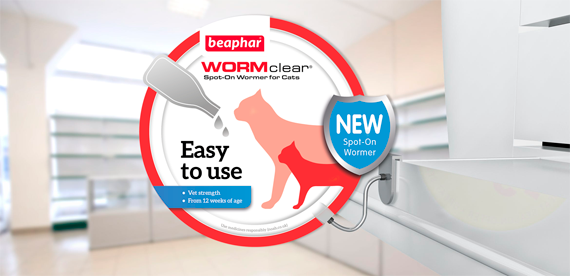 Beaphar UK has added to successful worming range with the introduction of a new cat wormer.
Wormclear Spot-On for Cats is ideal for cats that are less accepting of tablets," Beaphar says. The easy-to-use product contains vet strength praziquantel to kill all types of immature and mature tapeworms, making it ideal for cats that hunt or those that have recently had a flea infestation.
Dr Sue Huggett, business manager, Beaphar UK, said: "Following the successful launch of Beaphar Wormclear tablets in 2016, we have been keen to expand the range to include a spot-on wormer. While some cats readily accept tablets, we know that for many cat owners worming with tablets is a challenge.
"We wanted to make sure that all cats and owners had access to an easy-to-use wormer that could protect their cat, and that is what Beaphar Wormclear Spot-On for Cats provides."
The wormer comes in a full-colour, shelf-ready pack (SRP), which enables retailers to display the product and make it easy for cat owners to identify what the product does. To grab the attention of consumers, Beaphar has designed a 'bus stop', a promotional point-of-sale item that sits alongside the product on-shelf to draw the eye.
Alongside this, pet retailers can complete the Worm Training module available on the Beaphar Training Zone, giving them more knowledge on worms, which can then be passed on to their customers. The module is AMTRA-accredited and worth 5 CPD points.
Beaphar Wormclear Spot-On for Cats comprises two pipettes and has an RRP of
£5.99.