Sniffers Pet Care has secured a major order with Petmania that will see its range of healthy dog treats in stores throughout Ireland.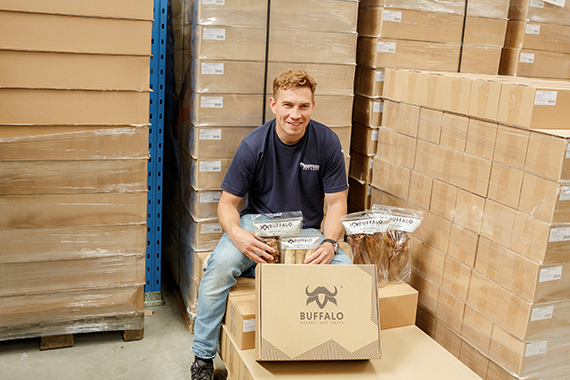 Simon Brown, director at Sniffers Pet Care
Sniffers, a family-run business with headquarters in Huddersfield, West Yorkshire, currently distributes products to around 700 pet care stores across the UK, from independent traders to Pets At Home.
Now its treats will also be available in 12 stores across Ireland, in its first foray into the Irish market.
Included in the order is the Sniffers' Bow Wow range of healthy snacks in addition to Monster Chocs, a range of dog-friendly chocolate, and Buffalo Natural Dog Treats made from free-range buffalo that is high in omega-3 and leaner than beef or pork.
The range will be sold by Petmania, the largest pet specialist retailer in Ireland, employing around 200 people in its stores and distribution centre.
Sniffers has enjoyed a 25% year-on-year increase in turnover, following a move to its current 6,250sq ft home at Bridge Business Park in Huddersfield in January 2019.
Sniffers MD Simon Brown said the contract would significantly raise the business's profile: "This is our first foray into Ireland with our dog treat range and we're very excited. The demand for healthy dog treats is increasing, with more pet owners becoming more aware than ever of the need for healthy not always indulgent choices for their pets."