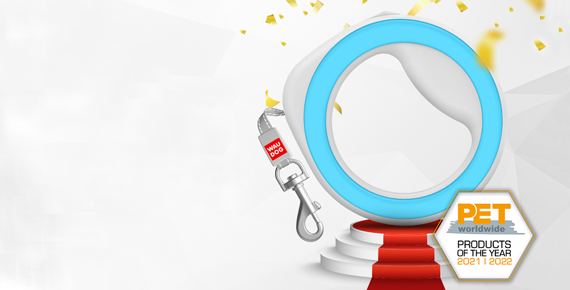 Collar Company's Waudog ring-shaped retractable lead has won Product of the Year 2020|2021 in an international Pet Worldwide magazine competition.
Products entered for the global competition were voted on for three months, with wholesale traders and retailers looking for the best new releases for dogs, cats, aquatic livestock, birds, and rodents.
Pet worldwide managing editor Ralf Majer-Abele said: "With fresh ideas and well-thought-out product innovations, Collar Company has been attracting attention in the international pet industry for several years.
RIGHT TRACK
"The high reception it has now received in the pet trade from all over Europe confirms that Collar Company is on the right track."
Company founder and CEO Yuriy Sinitsa said: "For 25 years, the Collar Company team has been creating products that make pets and people happy. Our goal was to create a stylish accessory to wear on a pet walk, which hasn't existed before. This victory inspires us to create new products that will make pet parents from Japan to the USA joyful."
The WAUDOG ring-shaped retractable lead is a stylish accessory that allows the owner to use it hands-free, putting the lead on the wrist. The designers shifted the weight center to the handle to reduce the stress on the human hand. The ring-shaped leash fits any dog breed up to 40 kg.
For more information visit: collarglobal.com/