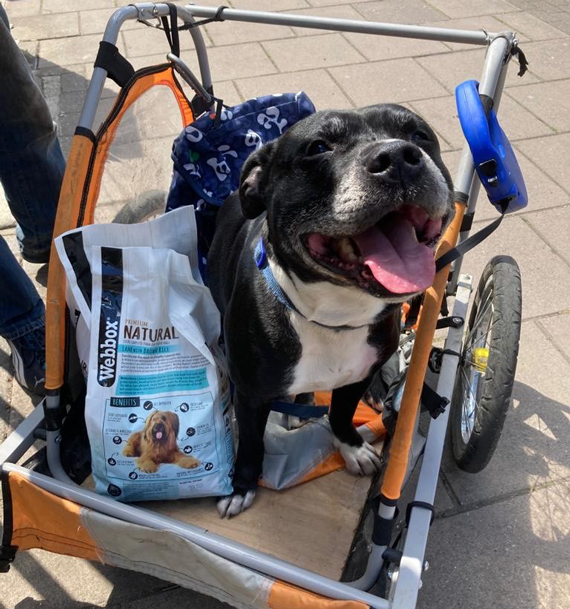 Pictures above Bruce, one of the homeless pets being supported by StreetVet and its partner Pets Choice
Pets Choice, which produces Webbox pet food, is celebrating three years of partnership with charity StreetVet, having donated more than £25,000 of food to pets in need.
StreetVet delivers free treatment and support to the homeless and their pets in cities across the UK and the partnership with Pets Choice has benefited around 1,000 pet owners to date.
The Lancashire manufacturer has committed to a further £5,000 in food donations this year. Additionally, it is working on another initiative with StreetVet to provide 'Forever Home Packages' for individuals who manage to secure temporary accommodation or a permanent home with their pet. These ensure that, for at least six months, owners don't have to worry about food for their furry friends. This initiative works alongside of the company's regular donations of wet and dry food for the charity.
During the covid-19 pandemic, StreetVet is working hard to provide food and treatment on a weekly basis to registered veterinary practices for distribution to owners, as well as campaigning for more hostels to accept pets so that owners and dogs can stay together during the Government's lockdown period.
BOND
Julie Butcher, head of marketing at Pets Choice, said: "We are passionate about supporting StreetVet and their invaluable work. The bond between a pet and their owner is incredibly strong, and this is arguably even more the case for those without a permanent home.
"For StreetVet's clients, their dog is their best friend and a constant comfort in a very challenging environment, so it's important that they get the support needed to stay together.
"Unfortunately we expect the number of people without a home to rise sharply this year as people feel the economic impact of covid-19, so we're keen to pledge our long term support and play our part in alleviating some of the intense pressure faced by the homeless community."
StreetVet co-founder Jade Statt said: "Pets Choice has supported us since the early days of our operation and we're incredibly thankful for their ongoing support. Like us, their priority is animal welfare and we're very proud to have them as one of our charity partners celebrating this donation milestone together."