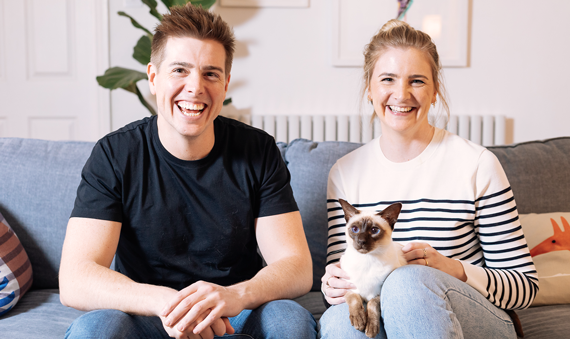 A new cat food business, started by a brother and sister, has secured a £4.5m investment to help the company expand across the UK.
Brett and Nikki O'Farrell started KatKin in 2019 because they believed pet food options available on the market didn't provide cats with the nutrition they needed to live a healthy life.
They now aim to create the 'healthiest cat food in the world', with a 95% fresh, real meat content with zero fillers and preservatives.
PERSONALISED PRODUCTS
The £4.5m investment, achieved in a seed-funding round led by Octopus Ventures, will support KatKin's plans to make healthy fresh cat food more accessible. It will also allow the company to develop its personalised products to ensure that every cat receives their exact nutritional requirements.
Brett said: "We're building a world class team that puts cats first and we're on a mission to improve the lives of cats, as well as their owners. We're grateful for the early support of our angel investors and Octopus, which enables us to continue investing in our product and customer experience and to further extend our reach in the UK."
KatKin says its food replicates what cats have evolved to eat in the wild – a high protein, high moisture, grain-free diet. The company uses a proprietary algorithm that enables personalisation of food for an individual cat based on a range of inputs, including weight, size, age, activity level. This means the vet-formulated meals are personalised to the dietary needs of each individual cat in a household.
CUSTOMER FEEDBACK
Feedback from customers has been positive with 80% of cat owners reporting their pet was more playful and happier. Other findings show that 75% saw an improvement in their coats, and 65% reported improved digestion.
Dr Justin Shmalberg, chief veterinary officer at KatKin, said: "Fresh food is truly an innovative approach to feeding cats, but the aim is simple: to provide quality ingredients from top tier suppliers and a high meat content tailored to the unique nutritional needs of cats.
"It has previously been difficult to replicate a cat's natural diet whilst optimizing for mass-production and long shelf life which has been the conventional approach. However, by focusing on freshly-cooked ingredients, rather than the method of production and storage, KatKin has identified the dietary balance in custom-portioned amounts that supports cats' nutritional needs, without needing to add processing agents or artificial preservatives which lack nutritive value."