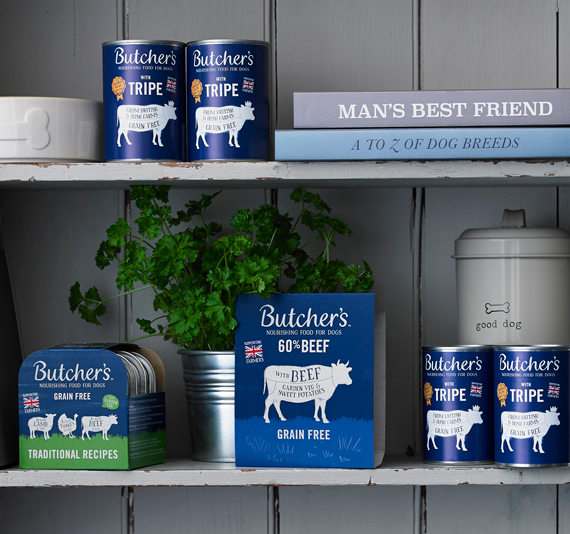 British food brand Butchers Petcare has secured a £27m refinancing deal to support its growth and innovation plans.
The funding deal, which includes banking and asset-based lending facilities, will support the East Midland's-based family-run business's sustainability strategy, which includes an investment in plastic-free packaging across its dog food range.
Switching from plastic wrap to biodegradable cardboard and recyclable tins means East Midlands-based Butchers Petcare will remove the equivalent of 4.2 million plastic bottles from its packaging range.
The finance package – from NatWest, RBS Invoice Finance and Lombard – has also funded a TV advertising campaign to support brand repositioning, the introduction of improved plant and machinery and the roll-out of the new Blink! cat food brand to customers.
GRAIN-FREE
Butchers Petcare was established in 1987 by Graham Baker, who comes from a family of butchers and beef cattle farmers. The company is now forecast to turn over £100m over the next 12 months.
Graham Baker said: "Over the last 30 years we have built a reputation as one of the leading wet dog food brands in the UK, thanks to our commitment to using high quality ingredients and completely grain-free recipes.
"Securing this finance package from NatWest, RBS Invoice finance and Lombard, will enable us to build the reputation of the brand further by providing access to working capital required to invest in key areas of the business, including sustainable packaging and our TV marketing campaign.
"It's an exciting time for the business and we can't wait to introduce our new look products to customers over the coming months."
Paul Mitchell, large corporate relationship director at NatWest, said: "Butchers is a long-standing family brand who we've had a dialogue with over a number of years The combined finance from NatWest, RBS Invoice Finance and Lombard will give the business flexibility, delivering a client-focused solution which will support its innovative growth plans for the next 12 months and beyond."