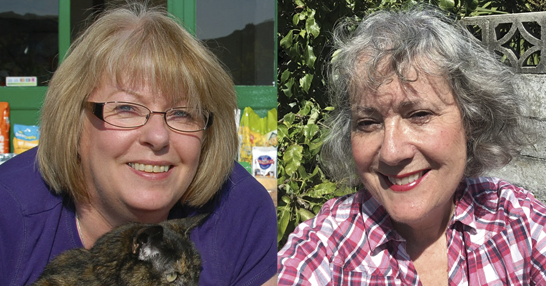 Katie Jenkins (left) and Toni Cherrett
Two entrepreneurial animal lovers – brought together by a simple postcard – have joined forces to help dog owners tackle 'mucky pup' problems.
Katie Jenkins is the creator and proprietor of Dog Hair Day, a collection of herbal blend dog shampoos, while Toni Cherrett makes and sells The Trover Bone Dry dog drying coats.
Katie is based in Lancaster in the North West and Toni on the three-mile-long island of Alderney, in the Channel Islands. Although they have worked together for some months they will meet in person for the first time at the Chatsworth Country Fair from August 30-September 1.
Visitors to their stall at Chatsworth, in Derbyshire, can talk to them about their own dog's skin and coat issues and buy any of the four varieties of Dog Hair Day, a Trover Coat and a Bamboo Groom eco grooming brush.
Katie explained how the collaboration came about: "Last year I had some bright, inviting Dog Hair Day postcards designed with the slogan 'Wish We Were Here'. These I sent to shops and businesses that might like to become stockists. Trover Coats was one of these businesses."
Toni, a former professional equestrian dressage/eventer trainer, said: "This personalised approach to networking caught my imagination and I got in touch. It soon became clear that our British-made, high quality, no nonsense products that work would complement each other perfectly. We are very much looking forward to meeting each other."