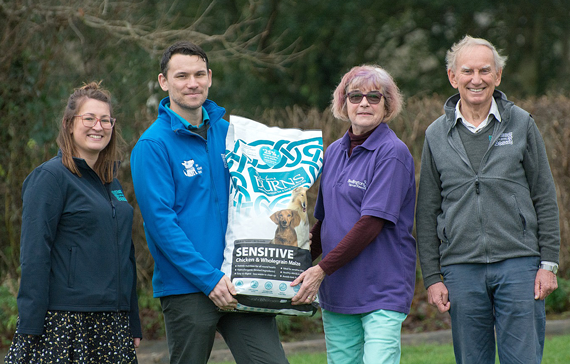 Family-run Burns Pet Nutrition has revealed the two charities it is supporting as part of its ongoing Charity of the Year programme.
Burns, which regularly donates its natural pet food to more than 40 rescue centres across the UK, has selected Bedlington Terrier Rescue Foundation and West Cork Animal Welfare to receive a year's worth of financial assistance and food amounting to over £50k in value.
The charities were chosen following an application and interview process. The collaboration marks the fifth consecutive year that Burns has run its Charity of the Year programme.
Business owner and veterinary surgeon John Burns said: "We are in a very fortunate position that, as a company, we are able to support causes in the community as well as deserving charities. I have decided that Burns should be a force for good."

BEDLINGTON TERRIER RESCUE FOUNDATION
Bedlington Terrier Rescue Foundation was founded in 1976 by Barbara Butcher MBE and Phyllis Cooper  to rescue and rehome bedlington terriers and their crossbreeds throughout the UK.
Burns Pet Nutrition will help finance the rescue's foster carer Training Scheme. The foundation does not house their in kennels but ensures that each rescued dog is homed with a foster carer until a forever home is found. The new training scheme will provide foster carers the opportunity to work with appointed behaviourists to prepare the fostered dogs for life in their new home.
Frances Fuller, director of Bedlington Terrier Rescue Foundation, said "We're really happy to be working again with Burns on this exciting project. They helped us celebrate our 40th anniversary at Discover Dogs 2016. It's great that they are as enthusiastic for our training scheme as we are and we're looking forward to now making this happen thanks to their generous support."

WEST CORK ANIMAL WELFARE
Founded in May 1999, West Cork Animal Welfare was established to help unwanted, abandoned, neglected and abused animals in West Cork. This year, Burns Pet Nutrition will help purchase much-needed items for the rescue centre.
Jennifer Headlam, from West Cork Animal Welfare, said: "We are absolutely delighted and thankful, for all the dogs, cats and kittens in our care, to have been chosen as the Burns Charity of the Year. We all know what incredible quality Burns food is and the benefits it will give the animals in our care, from tiny pups and kittens to older frail dogs. It is a massive boost to the West Cork Animal Welfare Group team and an honour to be the winners."
In addition to its Charity of the Year Programme, Burns runs a number of grassroots projects including The Better Tomorrow Programme, which aims to engage and help young people to develop valuable life skills, and The Burns by Your Side reading to dogs programme, designed to help children struggling with literacy and communication. The company takes a proactive approach to giving back and has 8 full-time members of staff working in its community department.