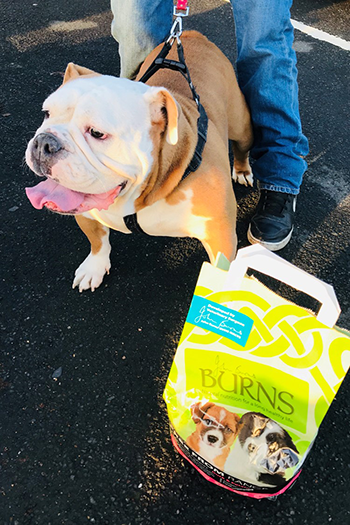 Burns Pet Nutrition is set to feed hundreds of dogs living rough with their owners in 2021.
It will be supporting the Street Paws Dogs Champions Scheme, which aims to tackle the issues around the lack of pet friendly accommodation for those struggling with homelessness.
The scheme funds purpose-built dog kennels on site at hostels, and provides food, pet accessories and veterinary support.
The covid-19 pandemic has meant Street Paws has experienced an increase in calls for support for people who are now homeless or facing homelessness with pets. The charity's fundraising has also been severely disrupted.
Burns is a long-standing supporter of Street Paws and has now agreed to help the charity feed 50 homeless dogs per month via the scheme in 2021 with its Sensitive Chicken and Wholegrain Maize dog food range.
Founder John Burns said: "The ongoing coronavirus pandemic has had a huge impact on charities across the UK.
"Street Paws provides a service and support that is more vital than ever for both people and pets at this most difficult of times and we're pleased to be able to support the Dogs Champion Scheme and help ensure more dogs in need are fed this year."
MAJOR IMPACT
Michelle Southern, founder and director of Street Paws, said: "Many people and their dogs rely on the generosity of the public for donations and with lockdown restrictions continuing, this has a major impact, leaving pets and people hungry.
"This donation from Burns will make a real difference at a time when our charity's budgets are more stretched than ever. We know we will be able to provide dogs with high quality, regular meals and take that burden and worry from their owners too."