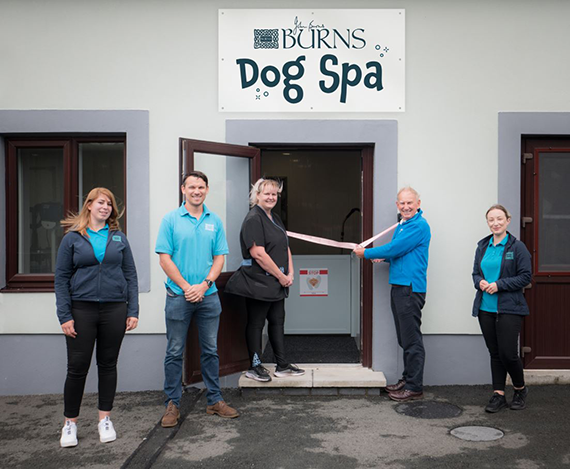 Natural pet food company Burns Pet Nutrition is diversifying its local offering with the unveiling of a brand-new pet spa.
The Camarthenshire-based family firm opened its own dog grooming and pampering centre, 'The Dog Spa' this week (August 25), located at its Farm Shop in Kidwelly, South Wales.
The new salon will offer a host of canine services and treatments, from traditional washing, grooming and styling, to nail trimming, ear cleaning and even facials and paw balms.
It will be run by grooming specialist Jackie Bowen, who has more than 10 years' experience working in the industry, having joined Burns from Pets at Home where she spent more than seven years working at various groom rooms across South Wales. Prior to that, Jackie ran her own home mobile dog grooming business.
In line with Burns' ethical values and commitment to an all-natural approach to pet health, all products used at the salon will be free from harsh chemicals, parabens, soaps and dyes. They will also carry the Leaping Bunny logo, which guarantees that they are sustainable and cruelty-free.
Jackie said: "I am so pleased to be joining Burns and can't wait to open the new Dog Spa facility. I am passionate about working with dogs and have dreamed of having my own salon for years, so this new role is perfect for me."
The new salon will be located at Burns' award-winning Kidwelly farm shop, Parc y Bocs, which is dedicated to selling and serving locally sourced produce, also featuring a café, restaurant and play area.
As well as the 'Dog Spa', Parc y Bocs is also soon set to welcome a doggie health clinic where owners will be able to bring in their pets for a weigh-in and receive personalised nutritional advice from a team of dedicated nutritionists.
While Parc y Bocs' catering facilities are currently closed due the pandemic, the farm shop and grounds remain open to the public. The Dog Spa will also be open Tuesday to Saturday every week.
The Dog Spa is the latest venture for Burns Pet Nutrition, which was founded by vet John Burns in 1993. The firm opened its Parc y Bocs farm shop and facilities in 2007 and is continuing to explore ways of diversifying the business.
John explained: "I am excited to reveal our new dog spa at Parc y Bocs, which is a reflection of our continued efforts to add value for our customers and improve the repertoire of services we have available.
"Those that have piloted the facilities have really enjoyed the experience and I have no doubt that the spa will be a very welcome addition for our local customers.
"I am also thrilled that we could create a new role at Parc y Bocs and am pleased to welcome Jackie to the Burns family. We can't wait to welcome our first customers to the salon."