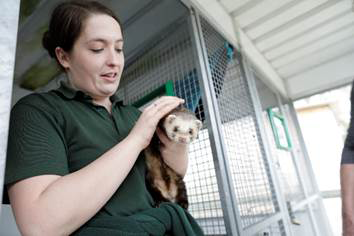 Cambridgeshire-based animal charity Wood Green has secured support from major UK pet food manufacturer Burgess Pet Care for the 12th year running.
Monthly donations of food for dogs and small pets will continue to ensure pets in the charity's care receive a quality diet, while enabling Wood Green to fund other areas of vital work and be there for vulnerable pets and owners.
The partnership began in 2009 and has now been confirmed for 2021. With the support of Yorkshire-based Burgess, the charity has been able to feed thousands of dogs and small pets over the years – including a group of 11 ferrets that were helped with donations of Excel ferret food.
Megan Errington, from Wood Green's corporate fundraising team, said: "Being there for pets and pet owners means that, as a charity, we never know who will need our help next. Small pet owners, in particular, often come to us when breeding has become out of control and we take in large groups of pets at a time.
PET WELFARE
"Thanks to partners like Burgess Pet Care, we are well stocked and ready to respond to those in need of our services."
The partnership doesn't end there; Wood Green is an active member of Rabbit Awareness Week (RAW), an annual campaign organised by Burgess Pet Care to improve pet welfare.
Wood Green is one of the biggest small animal charities in the country, caring for and rehoming thousands of dogs and cats every year from two centres in Cambridgeshire and Hertfordshire.
At any one time, the Small Pets team can be caring for up to 10 species, including rabbits, guinea pigs, chinchillas, hamsters and mice. Wood Green is also one of the only charities to offer a mixing service, whereby small animal owners can bring in their own pets to be matched with companions of the same species.
Holly Ackroyd, at Burgess Pet Care, said: "As a leading manufacturer of pet food, it's only right that we do what we can to help charities like Wood Green. With our product range, and their expertise, we can make a big difference to the lives of dogs and small pets across the UK."