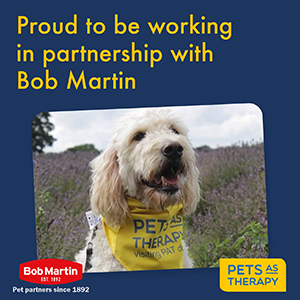 Pet care brand Bob Martin has formed a new partnership with Pets As Therapy, with a pledge to help raise awareness of the mental and physical support pets can provide.
The new partnership will see Bob Martin use its 'industry voice' to assist with the charity's continuous recruitment drive to find suitable new volunteers and raise their profile across the UK.
Pets As Therapy, which was founded in 1983, is a national charity providing temperament-assessed therapy animal visits through its nationwide network of volunteers. The Oxford-based charity has volunteers visiting hospitals, hospices, prisons, care homes, schools and many other establishments.
Matthew Robinson, national volunteer & events manager at Pets As Therapy, said: "We're thrilled about our partnership with Bob Martin as they value the vital support that animals can provide to our service users.
"The company's generous support will help us to raise awareness of the services we offer and allow us to continue supporting our service users across the country."
Established in 1892, Bob Martin has more than 125 years providing 'vet-quality' healthcare solutions, offering a range of products for both pet and home. Its flea, tick and worm treatments are available from pet retailers and supermarkets around the UK.