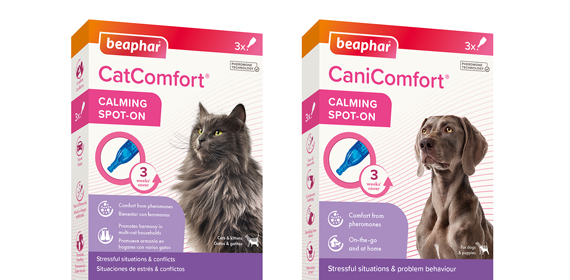 Beaphar UK is returning to PATS Telford after several years of exhibiting at the Sandown exhibition, and is geared up to showcase a host of new products.
"It has been a challenging 18 months, so we are really excited to be able to see our friends and customers from the wider pet trade in person once again," said Dr Sue Huggett, Beaphar UK's business manager.
"PATS is always a highlight of the pet trade calendar, and this year we're very excited to be returning to the Telford exhibition for 2021. We look forward to welcoming both existing and new retailers to our stand."
LATEST ADDITIONS
In the run up to November 5, Beaphar UK will be highlighting the latest additions to its popular pheromone calming range – Beaphar CatComfort and Beaphar CaniComfort Calming Spot-Ons.
"The new spot-ons are a unique product for the calming sector. The use pheromone technology to allow pet owners to provide comfort and reassurance to their cats and dogs for up to one week, wherever they go," said Dr Huggett. "They're a brilliant addition for the upcoming firework and festive season, and we're looking forward to speaking to retailers about them."
Alongside the spot-ons, Beaphar will be showcasing its extensive dental range for cats and dogs, and introducing another exciting new product, which will be available to retailers in early October. On stand there will also be a chance to win a fabulous prize, and some great show deals available too.