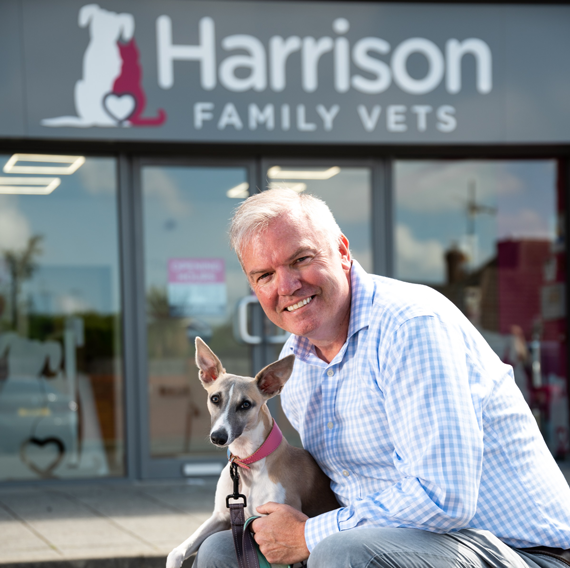 A well-known industry figure who previously established a successful national chain of practices, has returned to the sector to launch a new and independent veterinary group.
Managing director Tim Harrison has set up Harrison Family Vets with operations director, Kristie Faulkner. The first practice has opened in Woodley, Reading, in a £350,000 investment that has initially created eight jobs.
The next practice will soon open in the Midlands before the group expands into the North West towards the end of the year.
The pioneering group is now searching for further properties across the north and south of England, with plans to open 75 practices by the end of the decade.
NATIONL CHAIN FOUNDER
Tim was a co-founder of Vets4Pets in 2001 before joining US giant Mars Inc. to head the overseas growth of Banfield, then the world's largest veterinary practice. More recently he spearheaded the growth of his family business, White Cross Vets, into one of the UK's most progressive practices.
Kristie joined White Cross Vets as operations manager in 2016 and when the company was acquired by IVC Evidensia in 2018, it operated 20 practices across the North-East, North-West, Yorkshire and the Midlands.
Following the sale, Tim immediately exited the business and Kristie progressed to become regional operations manager at IVC Evidensia, overseeing more than 200 of the firm's practices across the South-East of England.
REPUTATION
Tim said: "The whole ethos at Harrison Family Vets is about fostering a culture within our team that sets us apart and differentiates our practice from all others. Every individual's strengths and personality traits will contribute to what we do, in a family-orientated environment. Our culture is about looking after people. A successful practice with a fabulous reputation amongst the profession and amongst clients is what automatically follows.
"Our state-of-the-art clinics boast extensive facilities including on-site laboratories, full x-ray suites, operating theatres, ultrasonography and separate dog and cat wards that have been carefully designed with mood lighting, aromas and music to offer a calming atmosphere.
"We've also worked hard to create a customer experience that's more akin to an Apple store, than a traditional veterinary practice. We don't have a reception desk and instead, our front of house team have the autonomy to freely interact with our clients and their pets.
"Our waiting areas feature bespoke pods, which give clients their own space and offer pets privacy, thus shielding them from the stresses of facing other pets in a traditional waiting room. Each pod also has its own tablet where clients can update their details, sign up to our Total Wellness Plan or even order fresh and healthy dog food from Butternut Box."