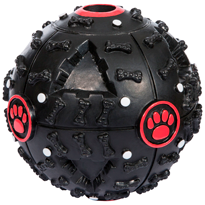 Trespaws, the pet accessory arm of international sportswear brand Trespass, is launching the Einstein Reward Ball Dog Toy at PATS Telford.
The ball is designed to provide mental stimulation for dogs and develop their IQ by dispensing treats, prefilled by the owner, as it is played with.
The plastic toy, which has been entered into the PATS New Product Showcase, is suitable for large and medium breeds of dog.
Trespaws produces a range of accessories for dogs such as harnesses, leads, equipment, dog grooming products and toys, all intended to make the most of the great outdoors.