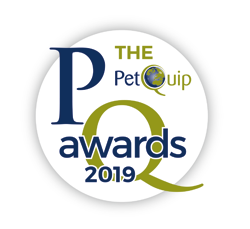 More than 70 of the pet industry's high achievers have been short-listed for the 2019 PetQuip Awards.
Now in its seventh year, organisers say the awards have attracted 'an unprecedented level of interest this year' with several hundreds of entries from a diverse range of companies both large and small. The winners will be revealed at the PetQuip dinner at PATS Telford in September.
For the first time, a number of overseas entries were received for the various product categories, reflecting the growing international importance of the PATS Telford trade show and recognition of the benefits of winning a PetQuip award.
Pat Flynn, PetQuip's trade association manager, said: "Ticket sales for the awards' dinner  started much earlier than usual as more and more applicants are requesting to be seated with friends or customers from the industry at this entertaining, networking event..
"As part of the evening's attraction, the casino tables will be there by popular demand again and the appearance of a table magician will be one of the extra fun elements to be introduced this year.
"Competition for the awards in all eight categories promises to be fierce, which will make for a very exciting evening while providing a true reflection of the UK's vibrant pet industry.".
The finalists for the 2019 PetQuip Awards are:

Merchandising Expertise
ChickenGuard
Fold Hill Foods
Henry & Co
Lucky & Prince
Natures Menu
Paw Naturel
Exporter of the Year
ChickenGuard
Fish4Dogs
Hero Pet Brands
Little Big Paw
Natures Menu
Nutriment
Paw Naturel
Peak Pet Products
Symply Pet Foods
Marketing Project of the Year
Beaphar
Burgess
Fold Hill Foods
Forthglade
Henry & Co
Henry Wag
Highfields Health
Hownd
Paw Naturel
Wild Wash
Pet Product of the Year
Three categories:
1. Food/Treats/Health:
Dogs
Benyfit Natural
Billy + Margot
Fold Hill Foods
GWF Nutrition
Henry & Co
Innocent Pet Care
JR Pet Products
Lucky & Prince
Natures Menu
Nutriment
Pawfect Foods
Pedigree Wholesale
Pet Munchies
PetCo
Only an Ocean
Rocketo
R&R Products
Symply Pet Foods
Wilsons Pet Food
Cats
Blink Cat Food
Burgess
Little Big Paw
PetCo
2. Accessories/Technical:
All about Pets
Beaphar
Beco Pets
Collarways
Danish Designs
GHS Direct
Henry Wag
Hot Dog Pet Products
Hownd
Peak Pet Products
Pedigree Wholesale
Pets & Pods
Only an Ocean
Sure Petcare
Tigga Towers
Trespaws
Tropiclean
3. Small Animals:
ChickenGuard
HayPigs
UK Pet Retailer of the Year
Henry & Co Dog Boutique, Arbroath
Cat Tree UK, online retailer
Just for Pets, pet store chain, nationwide
Mutt & Co Pet Boutique, Hartlepool
Redpaw Pet Supplies, Plympton
In addition, awards for International Pet Retailer/Distributor of the Year and Lifetime Achievement will be presented at the PetQuip Awards dinner.
The finalists will now be judged on August 8 by an independent panel of pet retailers and marketing analysts.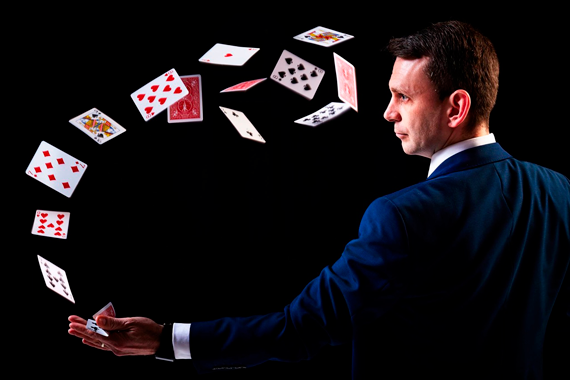 Lee Smith will be casting his magic over the delegates at the awards' dinner.  This new element to the event was suggested and is sponsored by Hownd
The PetQuip Awards event 2019 takes place in association with PATS Telford in the Ludlow Suite, International Centre, Telford, on Sunday, September 22, at 7.30pm..
The PATS Telford New Product Awards will also be presented at the PetQuip Awards dinner. The event promises a fun evening of networking with customers and peers in the pet trade.  Included in the entertainment are a pre-dinner drinks reception and a three-course meal with wine plus networking, plus a table magician during the evening and the popular casino tables following the awards presentations..
Tickets cost £75 plus VAT to PetQuip member companies (or £85 plus VAT to those who haven't yet joined the association).  Tables can be reserved (cost on application).
Booking forms can be downloaded from www.petquip.com or simply call 01959 565995 to make an immediate booking by credit card.
The awards are produced in association with PATS and supported by APPA/Global Pet Expo, Canagan, Hownd, Natures Menu, pbwnews, Pet Trade TV and James & Steel.