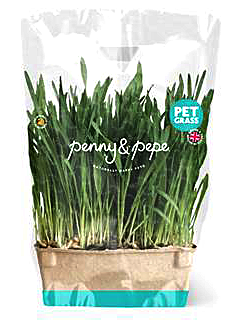 Fresh, ready-grown pet grass brand Penny & Pepe is making its debut at PATS Telford.
A mixture of wheat, oats and barley, the grass is suitable for cats, dogs, reptiles, birds and small animals and is designed to make pets feel 'naturally stimulated, entertained and energised'.
Rosie Acton, commercial lead for the brand, said: "At Penny & Pepe we're all about bringing the outside in for naturally happy pets. We were delighted to introduce the first ready-grown pet grass product in the UK at PATS this year.
"We firmly believe that pets are part of the family and it's important they feel happy at home. By bringing the outside in, our pets can get more from their space and time at home."
Penny & Pepe pet grass, which has a RRP of £4.99, is grown in the UK without pesticides or insecticides and comes in recyclable/compostable packaging.