The Kennel Club Art Gallery has this week opened a new exhibition to the public, showcasing and celebrating the life and work of renowned dog artist Julie Brenan (1948-2020).
Open until April 2022 at the central London-based gallery, 'Julie Brenan: A Celebration' includes her work from world-famous dog shows, as well as more informal paintings and commissions. All displayed paintings showcase the artist's talent to portray the relationship between humans and canines.
Julie's career spanned more than 30 years including a 1979 commission to paint the Crufts Best in Show winner, which she continued to do for each Crufts champion for almost two decades. She was also commissioned to paint several canine members of the Royal family, including The Kennel Club's patron, Her Majesty The Queen's Corgis at Windsor Castle, and The Kennel Club's president, Prince Michael of Kent's yellow Labrador, Sponge.
TALENT
Marianne Walker, Art Collection Curator at The Kennel Club Art Gallery, said: "We are delighted to be showing Julie's work, and to celebrate her life and undeniable talent at our gallery…
"This is our first exhibition opening at the gallery since the start of the pandemic and we are very excited to have something special to show to the visitors, and share a little piece of dog world through the work of this amazing artist."
Although this exhibition is Julie's premiere at The Kennel Club's gallery, her work has previously been displayed in numerous domestic and international venues, including the Dog Museum in St Louis, USA, and the Royal Dog Show in Toronto, Canada.
The exhibition is open now at The Club Art Gallery at 10 Clarges Street, W1J 8AB, London, from 10am to 4pm.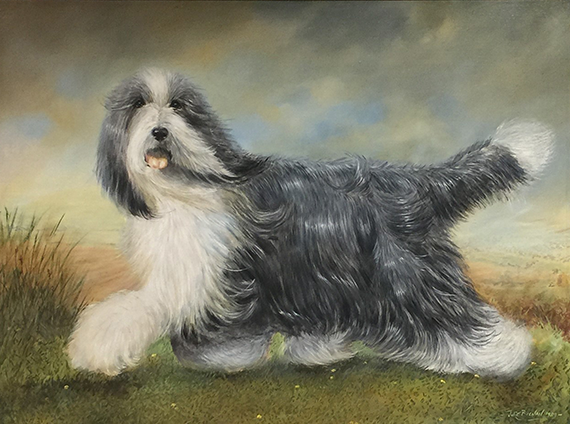 Ch Potterdale Classic of Moonhill (Cassie) Crufts Best In Show Winner 1989, oil on canvas by Julie Brenan. Picture copyright: Private Collection