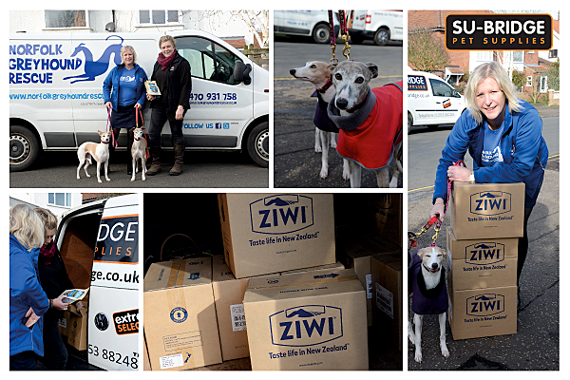 Ziwi Peak and Su-Bridge Pet Supplies have collaborated to donate premium dog chews to a greyhound rescue centre.
Norfolk Greyhound Rescue is a small, not-for-profit organisation whose main aim is finding caring homes for Irish Greyhounds. They are generally dogs who don't make the grade as racers or who are discarded once they are no longer able to race. The charity prides itself on the fact that everyone involved is a volunteer and every penny raised goes to the benefit of the hounds.
Ziwi Peak approached Su-Bridge Pet Supplies with the intention of a combined effort to find a charity to support in the East Anglian region. Norfolk Greyhound Rescue, based just outside of Norwich, is well known for its dedication to each hound and the foster carers who take care of the dogs. The charity provides aftercare to ensure each new owner is supported to give their new dog the best start on their new life.
Ian Manning, director of Su-Bridge Pet Supplies, said: "We are delighted to have the opportunity to support an amazing cause, from an amazing charity, with an amazing product."
The ZIWI Peak chews being donated are naturally air-dried and nutritious, suitable for dogs of all breeds and life stages.