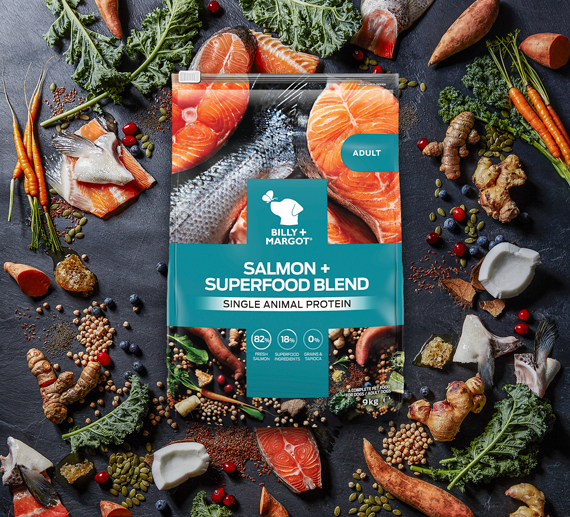 Billy + Margot is relaunching in the UK with a new range of products sold in Pets at Home stores for the first time.
The decision is the brand's biggest UK move since being acquired by Australian pet food company, the Real Pet Food Company (the RPFC Group), in 2016.
From the end of June, Billy + Margot products will be available to buy in Pets At Home's 400+ stores around the UK, as well as on their website. They will also be available through Pedigree Wholesale, and retailers including Ocado and Fetch.
In the brand's first major UK relaunch since it was founded in 2012 by canine nutritionist, Marie Jones, customers can also expect to see a significant change in the brand's look and feel, extending to product packaging across the entire range.
The investment aims to further distinguish Billy + Margot in the premium dog food market as a supplier of high-quality products that cater for the complex dietary needs of dogs.
The relaunch also sees the creation of a new range of recipes by Marie.
Dave Hughes, Category Manager for Food at Pets At Home, said: "We're delighted to be introducing the Billy + Margot brand to Pets At Home customers through our 400+ stores across the UK, as well through our online platforms. They provide a really high-quality and distinctive range of products, and we hope our customers agree that they are an attractive proposition for the premium dog food market."
Marie said: "I'm thrilled Billy + Margot products are now available for our customers to buy in-store at Pets At Home. The UK is where I first conceived the first iced-treat recipe, and successfully pitched to Dragons' Den – and so to now be back in the UK with a complete rebrand and exciting new range of unique recipes, supported for the first time by the UK's largest pet supplies retailer, Pets At Home, is incredibly exciting."
All Billy + Margot products are grain-free and made with the 'highest quality protein' and Marie's unique superfood blend made of fruits and vegetables, as well as Manuka honey, coconut oil, turmeric, ginger root, kale, spinach, carrots, pumpkin and blueberries.
The new range will be sold in Pets At Home stores from the end of June (wet and dry dog food, and dog treats ranges), as well as to independent retailers via Pedigree Wholesale.