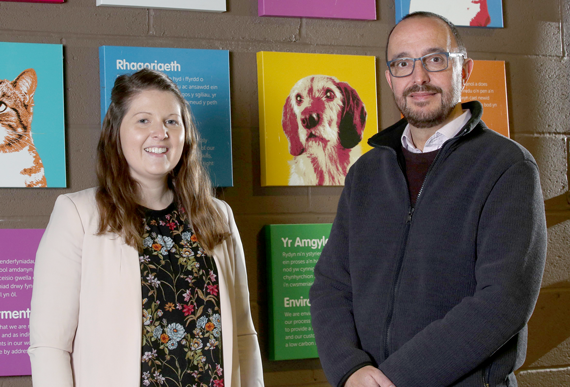 Ashleigh Walker and Mike Murray
IPN Kinmel Park, in North Wales – home of The Real Petfood Company – has strengthened its team with two senior appointments.
Ashleigh Walker is joining as a senior pet nutritionist in the technical services team. She will be working with own label partners and developing recipes featuring IPN's new FreshCook cooking technology, which uses human grade fresh meat and vegetables.
Ashleigh joins from C&D Foods, where she held a similar role. Before this, she was at GA Pet Food Partners, where she worked with The Real Petfood Company's MD, James Lawson developing and supporting branded customers in all their technical development requirements.
At GA, she also worked with Mike Murray, who is now joining IPN in Wales as senior national account manager. Mike will focus on supporting existing own label partners as well as developing new brand and own label business internationally. He had a similar role at Lancashire-based GA for some seven years. Before this he held business development roles in the human food sector, working in beverage and food service, and so has extensive account management experience. In his new post, Mike will report directly to IPN's sales director, Ben Anderson.
James Lawson said: "I am really excited about these two appointments as it reunites a very successful team whom I know will provide a top quality service to our customers both in the UK and internationally.
"We have some great products to offer, particularly with the FreshCook wet and dry foods, which use up to 100% fresh ingredients. Discerning pet food shoppers increasingly expect products to be of the same quality as their own food and we are ideally placed to meet this need."