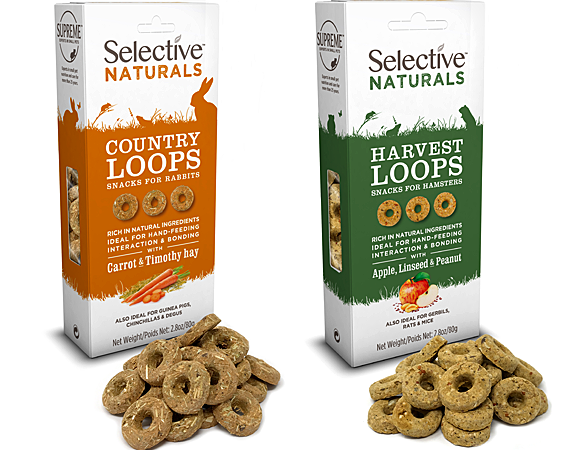 New products have been added to extend Supreme's Selective Naturals treats range.
Rabbits, guinea pigs and chinchillas can now enjoy Country Loops, containing traditional carrot blended with Timothy hay. For hamsters, gerbils, rats and mice, there's now an opportunity to nibble on Harvest Loops, with apple, linseed and peanut. Both new products are full of natural ingredients, sourced from UK suppliers and producers, and are ideal for hand feeding, interaction and bonding.
Carrot remains the most popular treat flavour for rabbits so Supreme expects the new variety to prove a popular addition. The range also includes Timothy Hay & Thyme Meadow Loops, Dandelion & Rosehip Woodland Loops, Blackberry & Chamomile Forest Sticks and Pea & Mint Garden Sticks. There are no added sugars, syrups or molasses in Selective treats.
Research carried out by Supreme has demonstrated that 97% of small pet owners want to feed 'natural' and this has been reflected in the performance of the company's existing Selective Naturals range, which has continued to enjoy growth since its launch in 2016, with sales up by 44% in the last year alone.
Marketing manager Claire Hamblion said: "Small pet owners are committed to the highest level of care, providing good quality, natural foods. We believe new Country and Harvest Loops offer a fantastic addition to a successful and much-loved range of treats. Pet owners enjoy introducing their pets to new flavours, shapes and textures and it's a great time for us to build on the credentials of the Selective Naturals range."