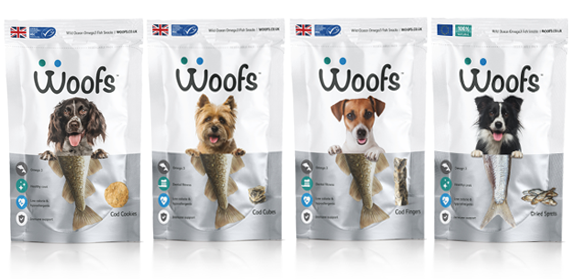 Pet treats business WOOFS is set to increase its product range in 2019.
WOOFS currently produces Cod Cookies, Cod Fingers, Cod Crunchers, Cod Cubes, Dried Sprats and Granola, available in different-sized packs and kiln jars.
The company is also looking to develop a premium dry food and is working with pet nutritionist Moddie Lambert to introduce a range of fish-based raw food recipes.
WOOFS will also be exhibiting at Crufts for the first time.
Founder Stewart Irvine said: "The company wants to bring top quality fish products to the attention of discerning dog owners…
"Fish is a great, easily digestible protein source for dogs and is ideal as a snack for overweight dogs who are trying to lose weight or dogs with allergies or intolerances…
"We are delighted to be exhibiting at Crufts this year. We feel that it will provide an excellent platform to promote the benefits of feeding fish to dogs."
WOOFS will be on stand 16 at Crufts, at the NEC, Birmingham on March 7-10.