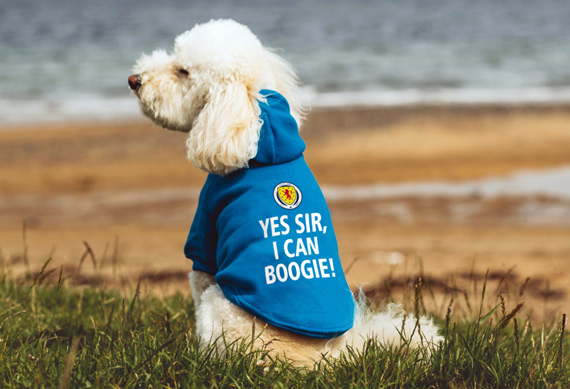 Dog clothing manufacturer Urban Pup has released a range of canine hoodies and t-shirts featuring Scottish football fans' adopted anthem 'Yes Sir I can Boogie'.
The new items, developed with the backing of the Scottish FA, also feature the Scotland crest and are available with two different designs in either Wallace Blue or Away Blue, retailing at £13.95 for the t-shirt and £19.95 for the hoodie.
The new range is a tribute to the Scotland national team's now-famous changing room celebrations on the night they beat Serbia and qualified for UEFA Euro 2020, when team members sang and danced to the 1970s disco classic.
Urban Pup Managing Director Denis Kelly is confident that the items will strike a chord with fans of the Scotland team.
He said: "After the success of our official Scotland football shirt and accessory ranges, it was a no-brainer to include this new fun range of hoodies and t-shirts to commemorate that very special night in Serbia. We know that supporters will love them just as much as we do."
Steven Romeo, Head of Retail for the Scottish FA, added: "Thanks to this innovative new range from Urban Pup, dog-loving Scotland fans now have the opportunity to proudly demonstrate their support for the side by dressing their beloved canine companions in the national team's colours."