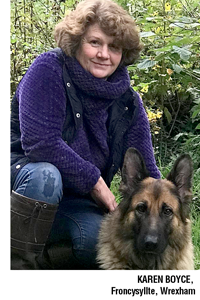 Karen Boyce, from Froncysyllte, near Wrexham, welcomed 250 puppies and their owners into her Beastly Thoughts Professional Dog Service (BTPDS) classes during 2021, having trained 220 in 2020 and 170 in 2019.
Karen said: "I am absolutely stunned that we have managed to continue training so many puppies during this global pandemic, and it was unbelievable when we increased on our 2019 numbers during the 2020 lockdowns. Now I am stunned once again.
"2020 was a very stressful time with the vast majority of puppy classes being held via Zoom. It was great to get back in the halls early on in 2021 and to slowly have the regulations relaxed."
The Beastly Thoughts Professional Dog Services puppy classes cover North East Wales and North Shropshire.
Karen also owns the Awesome and Rawsome Pets shop in Froncysyllte, selling premium foods and products selected for health benefits and eco-friendliness.