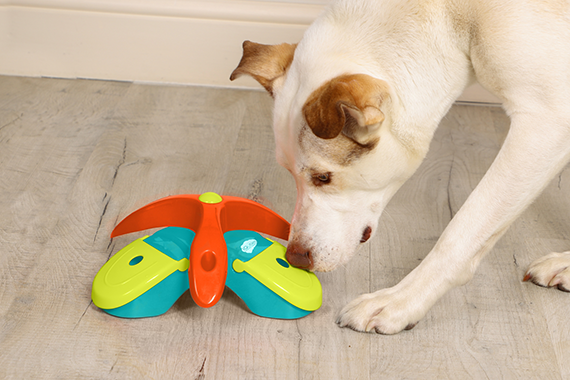 Pet Brands has released a boredom-busting range of brain games for dogs of all abilities, meeting an increasing demand for great pet enrichment options.
IQuties have been developed in eight styles with three levels of difficulty, to harness a variety of food-motivated problem-solving skills, at a price-point suitable for 'gifting'.
The range also presents an opportunity to promote customer interaction, Pet Brands says – stockists can challenge dog owners to post videos of their puzzle-solving pets on social media, tagging their local pet store.
Rachel Barrass, product developer at Pet Brands, said: "There is often a focus on pets' physical health, but promoting mental health is also essential. This includes ensuring pets' brains are being sufficiently challenged to avoid boredom and associated attention-seeking behaviours."
The IQuties range has options suitable for dogs of all ages.
Rachel said: "By engaging your pet's problem-solving skills, you can distract them from pain and reduced access to exercise. Plus, cognitive tasks can help to delay progression of the canine version of dementia. IQuties are also handy for overweight or inactive pets as they can be used for regular meals to increase feeding time, which can help with weight loss…
"Encouraging pets to entertain themselves, when supervised, can help prepare pups for spending more time by themselves."
IQuties are available exclusively from wholealer Vital Pet Group and have RRPs from £9.99-£15.