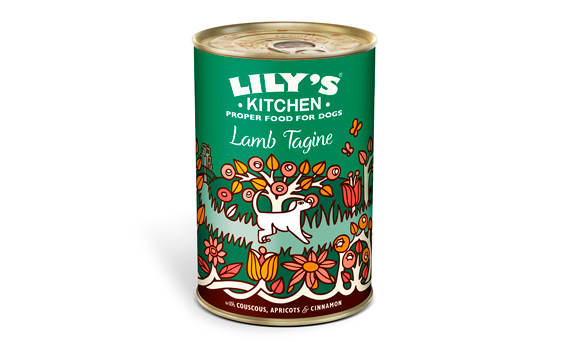 The latest launch from Lily's Kitchen brings a touch of the exotic to the pet food market with its latest wet food offering – Lamb Tagine.
The new recipe will launch on direct from this week, before being made available in independent pet stores from Monday 17th August. It is the first new wet food recipe from the brand since 'Fish Supper' in June 2017.
The recipe has been inspired by the classic flavours of Morocco and is made with freshly prepared lamb, couscous, and vibrant fruit and vegetables such as broccoli and apricots.
As with all Lily's Kitchen wet and dry food, health benefits were a key consideration in developing the recipe, which includes cinnamon for its anti-inflammatory properties, and squash for its high fibre content.
It is the latest in a fresh wave of tasty recipes from the brand, which recently revamped its dry food portfolio for dogs and cats, as well as its full packaging suite to a more vibrant, contemporary feel.
Announcing details of the new recipe, David Milner, CEO, said: "Our purpose at Lily's Kitchen is to inspire pet parents to feed pets properly, with high quality, natural pet food. But that doesn't mean mealtimes should be boring.
"With our new Lamb Tagine recipe, paw-rents can share their favourite exotic flavours with their beloved pets, all the while knowing that the food they're eating is the best possible quality and made with their health in mind."
All Lily's Kitchen dog and cat food recipes continue to offer complete nutrition and are packed full of wholesome natural ingredients including proper meat and fish, vegetables, fruits and botanical herbs, with absolutely no nasty meat-meal or artificial ingredients.