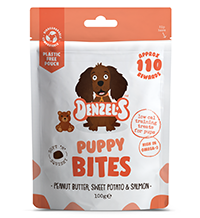 Denzel's has launched low-calorie training bites tailored to young pups.
The UK company, which produces sustainable snacks for dogs, said the launch came in a format requested by customers, after Google searches for 'buy a puppy' increased 166% since lockdown was announced last March.
Suitable for puppies aged eight weeks to 12 months old, the new recipe is made with peanut butter, sweet potato and salmon.
The small, 'soft 'n' squishy' pieces are perfect for training, the makers say, with about 110 rewards per pack. Denzel's products are baked in the UK using eco-friendly ovens and use only 100% natural ingredients, sustainably sourced from local suppliers with no preservatives, additives or fillers.
Co-founded in 2018 by James Lacy (29) and Nathan Perry (30), the British brand was backed last year by the Branson family after being the first pet food brand to receive funding from Virgin StartUp.
Co-founder James said: "Eleven per cent of households have welcomed a dog into their household over the past year, so there's been a huge demand for puppy specific treats. Having a low-calorie treat to incentivise puppies is really important, especially whilst they are developing and learning."
The bites come in plastic-free, biodegradable and home-compostable pouches, which are also resealable.
Denzel's soft 'n' squishy training bites have an RRP of £2.90.