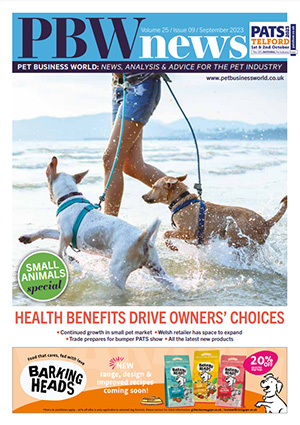 The September 2023 issue is now available online! Packed full of news, features and comments, including:
AHEAD OF SCHEDULE: Jollyes to open 10 more stores after achieving record sales.
INTERNATIONAL EXPANSION: Pet Family makes European investment and opens new flagship site.
EXCITEMENT BUILDS: Industry prepares for biggest-ever PATS Telford exhibition.
MAJOR DONATION: Pet trade gives generously to help animals in Ukraine.
HEALTHY CHOICES: Insight from Mintel on the increased focus on healthy feeding.
A NEW IDENTITY: Inside PetPlace's remodelled and innovative Llangefni store.
SHOPPING AROUND: Our mystery shopping team checks out stores in Sussex.
SMALL PETS & BIRDS FEATURE: An in-depth look at the trends and recent developments in the market for small pets and birds.
AQUATICS: A round-up of news from the tropical fish sector.
PRODUCT NEWS: Some of the best new products on the market to catch our eye this month.
WEIRD & WONDERFUL: A selection of unusual and off-the-wall stories from the animal kingdom.
BEHIND THE COUNTER: More tales of the day-to-day life of an independent retailer.