Wentworth Pet Supplies was opened by Wendy Appleby in 2018 and has already been labelled a 'godsend' by the local community. Here Wendy tells us how she came to resurrect the store from the shell of a former bank branch…
"The shop was a Barclays bank for more than 30 years but had been closed for five years by the time we got it. The building inside was just a shell by then – ceilings pulled down, internal walls removed, flooring ripped up, that sort of thing.
It required a huge amount of work to convert because it needed everything doing to it, including a new boiler and central heating, new electrics, completely new flooring and redecoration.
The previous occupants also left all the strong rooms intact, including the huge metal doors complete with time locks and steel in the walls. We've had these doors secured in place because someone is bound to see if they close otherwise, aren't they? Then who knows how we'd get them out! But at least they make a nice feature and we often see people gazing at the 'time lock mechanism' in fascination.
We chose the premises because we wanted to be part of a community and not another franchise in a garden centre, for instance. Virginia Water is a traditional village complete with doctors, dentist and local shops and the local trades committee is protective over its businesses. A pet shop fitted in nicely while not competing with others already there.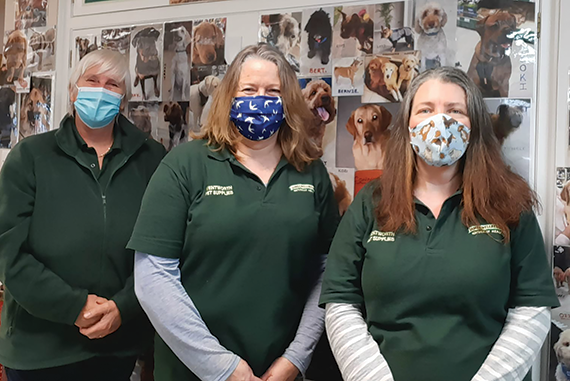 Chris Isles (manager), Wendy Appleby (owner) and Vanessa Marvin (shop assistant) all smiling above their masks!
My manager, Chris Isles, and I have worked in the pet industry for many years – in fact over 45 years between us. Chris started off working in kennels and then managed another pet shop for 25 years. I started working in the same shop about 20 years ago while also working as an APDT-accredited dog trainer, running classes one or two evenings a week.
We have been warmly welcomed by local people who tell us we are a 'godsend', which is lovely to hear. They are so pleased we're here and say it's great to have an independent store where staff will listen to their needs and advise on anything that may be of concern, while being able to offer various solutions, as we are not tied to any particular branded products.
The customers bring their own great ideas too. One of our early customers suggested we have a 'customer wall' where people could pin up photos of their dogs. It's so popular people are always asking to have their animals included and we're running out of space. The children love to search the photographs to see how many of the animals they know. We've now got a cat and a small animal photo-wall as well and – as of last week – even a parrot wall!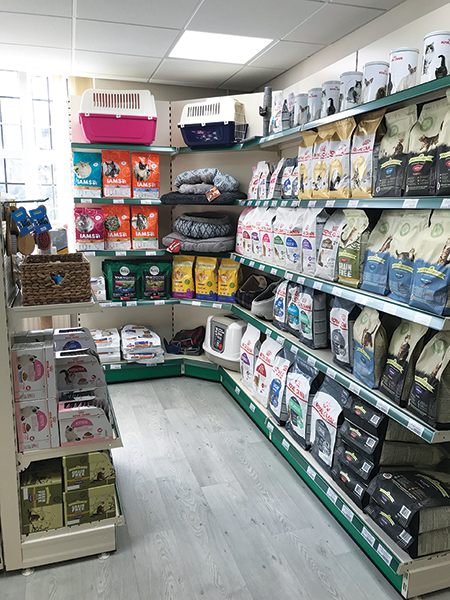 The shop stocks a wide variety to suit all pockets
We are gaining new customers all the time, especially after the coronavirus puppy boom. New customers often arrive via word of mouth, which is lovely. Apparently, the locals who walk around Virgina Water Lake have been passing on our details to new owners. We are happy to hear that and take it as a great compliment.
SAFETY FIRST
Due to the coronavirus pandemic we have placed screens around the till area and signs in the shop asking people to stay apart. Luckily it's a large shop so there is plenty of room to walk around and remain socially distanced. We also have sanitising stations outside, just inside the door and by the card machine and, of course, all the staff wear masks while on the shop floor.
I now employ three staff, including Chris my manager. This allows Chris and I to have two days off a week.
Some people say we are a special place and I would say first and foremost that's probably because we've 'been there, done that' with most common pets and their issues over the years. Our expertise allows us to provide a personal service, tailored to the needs of individual pets and owners. We can advise about nutrition, behaviour and which toys, treats, diet and harness etc might be appropriate. We can help people fit harnesses and coats, for instance, or, if someone doesn't have the dog with them, if they buy something that doesn't suit it can be returned with no quibble. Likewise, if they buy items of food that the dog or cat doesn't like then any unopened items can be returned. It's nice to be able to try something different with no huge monetary consequences if your pet decides to turn his nose up at the new offering.
All pets are welcome in store. We have many dogs, occasional cats and rabbits and even a horse that waits outside. We had one gentleman who brought his parrot in the other day. Often dogs will appear behind the counter on the end of a flexi lead to get a treat, as their owner wasn't planning on a visit and isn't wearing a mask, so the dog comes in by itself. The only shop rule is the dog must be sitting to get a treat – owners often tell us they wish the dog was as well behaved at home.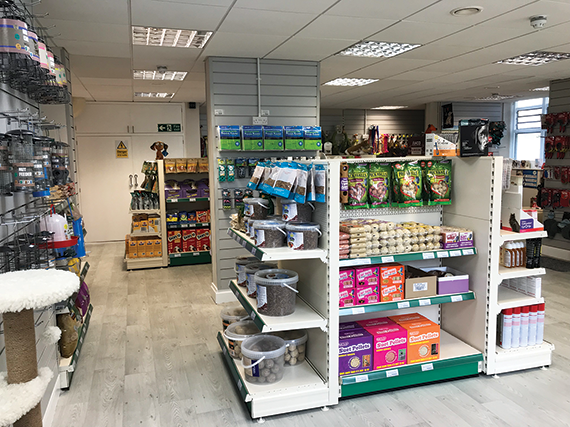 Virginia Water is known for the Wentworth Golf Course and Estate but it is actually a diverse village with properties ranging from large detached homes to blocks of flats and there are with people from all backgrounds and walks of life here. Many people have lived in the area for generations and we carry products at all price points in order to cater for everyone.
If we haven't got something and a customer wants it, we can usually sort it out. If it's a pet food product, well we have deliveries of these twice a week, so the wait is never that long. Then we will make sure the item is kept in stock via our 'special order book', which helps us to keep track of who ordered what and make sure that we keep the product by for the customer to collect.
Developing the shop has been a labour of love and there honestly isn't anything we would have done differently. As for the future, we'll try to move with the times and supply the best products…oh and keep on adding more of those pet pictures to the wall."