It does exactly what it says – The Village Pet Shop is a pet shop in the village of Somersham, in Cambridgeshire. Suzanne Clark bought the business last December and explains why it's been the best decision she's made… It was just eight months ago that Suzanne Clark took over The Village Pet Shop in Somersham, Huntingdon – and it's been pretty much non-stop since then, with her spending 'every single minute' in the shop. "But I am happy with how it's turning out," she said. "I have enjoyed every minute of it and can't imagine doing anything else now."
The Village Pet Shop was opened about four years ago – its then-owner was a dog trainer who was looking to diversify and Suzanne's daughter, Sacha Rayner, was working in the shop. Towards the end of last year, Suzanne heard some news that changed her life forever. "I heard that the shop was coming up for sale as the lady who owned it could not give it the time it needed and she wanted to focus on her dog training business," she said.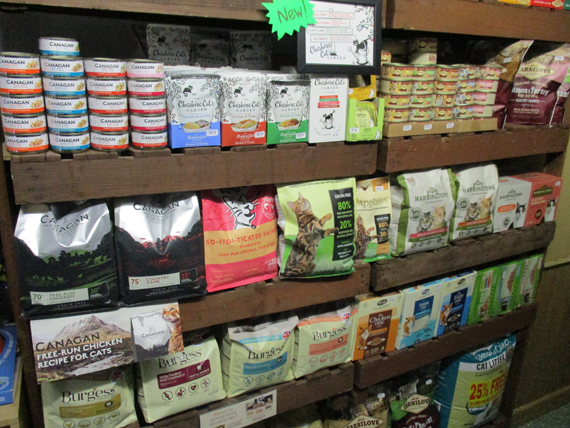 Cat offering is now three times what it used to be and carries specialist brands
Suzanne has extensive retail experience – she's worked in retail since she left school – and wanted a new challenge; the opportunity sounded too good to pass. When she bought the business, it was actually in its second location as the owner had moved it to larger premises in a two-storey building. She said: "Its new location was too big, and being across two storeys made it very hard to manage with one person. So I decided to move it back to its first location as the unit was empty – really, I took it back to its home!"
The move was completed one Sunday with all family roped in to help, though further work was carried out over the following weeks.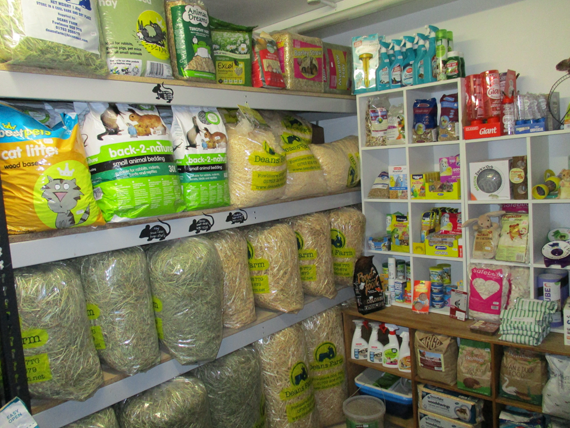 Suzanne introduced small animals and has seen her customer base grow
This included 'decommissioning' the back office to create more shop space, and the shop counter was moved against one wall to create easier flow around the shop. As space is tight, a central display rack in the main shop is on wheels so can be moved around easily.
Suzanne had a vision and wanted the shop to promote the natural message and so used pallets to create shelving, aiming for a rustic feel. "We took everything to bits and refitted the whole shop," she said.
Customers prefer this location, she said. It's on the route to the local school, close to the doctor's surgery and the local Tesco Express, post office and library. "In the morning, I get parents popping in on the school run, things pick up around lunch time and then again at about 3pm at the end of the school day," she said. "We have been very, very lucky."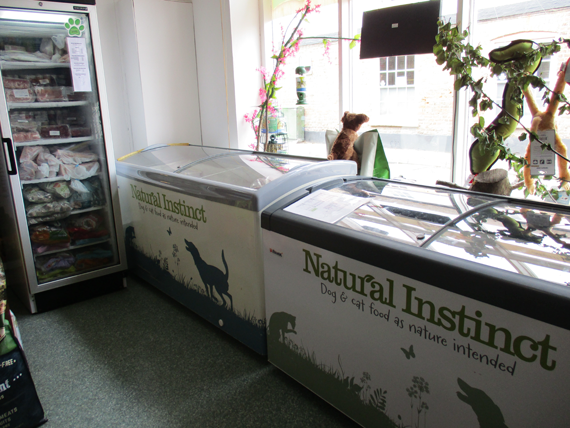 Raw is a strong seller
LEARNING CURVE
It's been quite a learning curve, she said – listening to customers and what they want has been crucial. "When I took over the shop, there was less stock than what I have here, and this unit is smaller," she said. "It was all very, very different, but I had the vision to see that it would all fit in.
"I have studied hard and listened to customers and what they want. Knowing what they want is so very, very important. But it's also about watching what they are buying."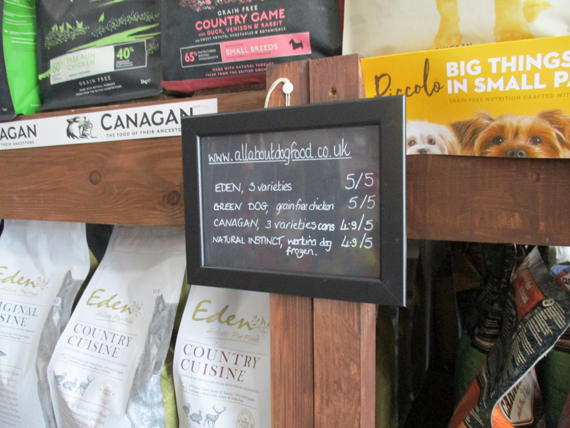 Making it easy for customers…
Suzanne discontinued some flea treatments and duplicate products as well as grocery staples such as Whiskas. "There's no point selling supermarket brands – I cannot compete and besides, there's a Tesco right up the street."
Dog food is the biggest seller and apart from strong independent brands like Canagan, Josera, Fish4Dogs and Eden, Suzanne has introduced a number of other brands including Lily's Kitchen, Carnilove, Piccolo and even Amala. Amala is manufactured by retailer Pets Take Away, in Stoke-in-Trent, and is a complete dry, grain-free food comprising fresh fish, chicken, fruit and vegetables.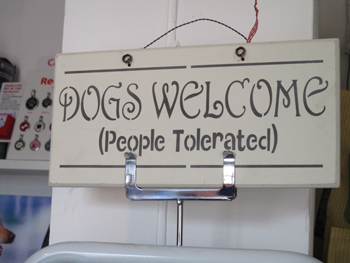 "We tried Amala and just by giving out free samples have picked up new customers – it's good value and a good product," she said. "People change their minds all the time and we really have to keep our finger on the pulse of things. Everything is constantly changing and moving, and so we have to keep on the move, too."
Raw sells well and has a strong following – Suzanne has one upright and two chest freezers stocking Natural Instinct, Natures Menu and Durham Animal Feeds. Most customers order in bulk and walk off with boxes. "I also get wings, chicken carcasses and marrow bones from the local butcher if they have surplus," she said.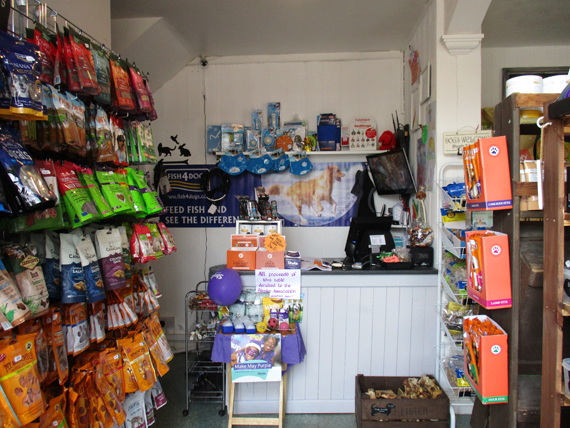 Counter has been moved against the wall with seasonal display table to one side
With her dog training background, the previous owner had focused on dog and so Suzanne saw the opportunity to expand into sectors like cat. "Cat's expanded to three times from what it was," she said. "We have some customers with special breeds like ragdolls, Savannahs and Bengals who want these products."
She's also grown the budgie range and introduced small animals – and her customer base picked up as a result. "I try and change my window display every two weeks or so, and for months I'd have a small animal element in the window just to show people that I am now selling small animal products."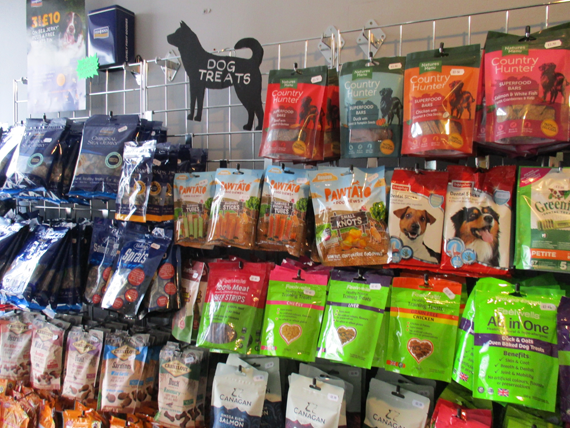 Natural treats are in demand 
Suzanne pushes the recycling and green message and tries to recycle as much as possible. She also asks customers to bring their own bags and if they don't have a bag, will offer cardboard boxes instead. Business has definitely picked up, she said, and customers come from further afield, some even travelling about 30 miles from Royston.
IN THE FAMILY
Suzanne's daughter worked in the shop for a couple of weeks at the beginning before welcoming her second child – Tilly was born in January and is little sister to three-year-old Logan. Although Sacha's on maternity leave until September, she helps out as much as she can and, living just around the corner, takes the children in regularly to see their grandmother.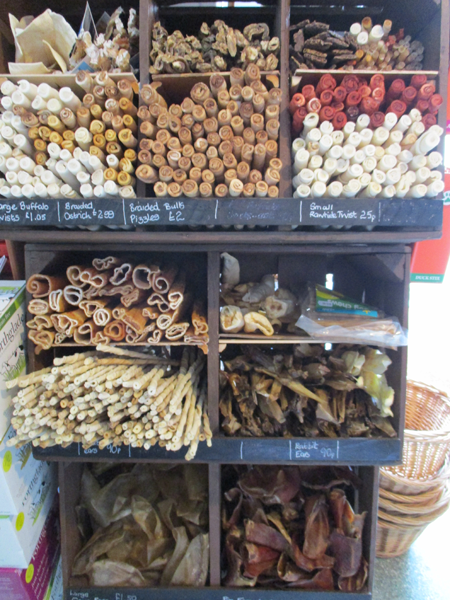 Pick 'n' mix!
Sacha said: "I asked Logan the other day if he wanted to go to the park to play and he said 'No, go to grandma's.' He loves the shop."
Logan certainly seems to want to carry on in the family footsteps – when some painting work meant a shelf was left bare, Logan promptly started filling it with items from other shelves.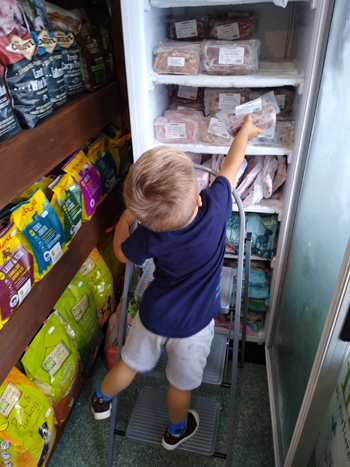 Logan helps stock the freezer
"He does not like to see an empty space," said Suzanne.
Sacha has, however, taken over the social media side of things and is constantly uploading items onto Facebook and Instagram. "I can deal with this at home when I have a few minutes spare," she said. "I do it two, three times a day. Mum will for example send me some pictures of a customer's dog in the shop and  then I upload it with a comment."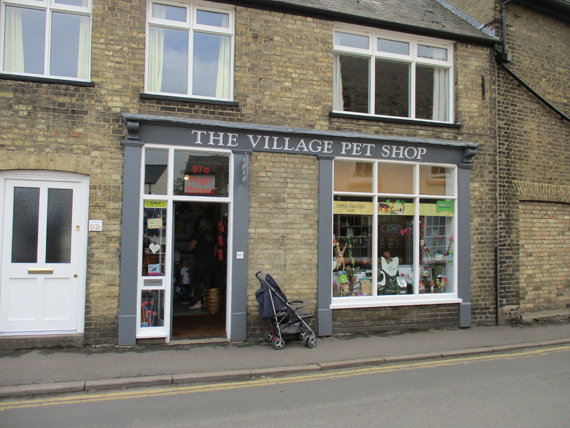 Window display is changed every two weeks or so
With an eye on community and building relationships, Suzanne is getting involved in local events such as the local dog show (she's sponsoring prizes) and had a group of pre-schoolers in for a little talk. "I also gave them a few things that they can play shop with," she said. "I have a soft spot for children."
Suzanne is constantly thinking of new ways of promoting the business and driving sales. One of her ideas is a 'dog sweetie cart' – a mobile cart stacked with sweets jar but filled with natural treats to take to dog shows. The cart made its debut appearance at the village's recent carnival and went down, well, a treat! She also runs a loyalty scheme where customers gain points and when they reach 10 points, they get a free bag of treats for their pet, and there's a birthday club where pets receive a happy birthday message and can get a birthday gift.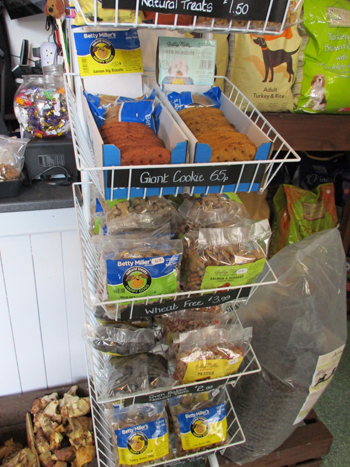 Tapping into the impulse purchase by the shop counter
To keep things interesting, she has a rotating displays table by the counter. At the time of visit, this was devoted to raising funds for a stroke charity – Suzanne's son suffered a stroke three years ago when he was only 22 years old and is now paralysed down one side.
However, at other times she has 'taste and try' samples of dog food and has had a cat litter display in which customers were encouraged to pour some water into the tray to see how well the litter clumped. You can't beat a good hands-on experience, she said.
"Having this shop is such a great pleasure, I really enjoy what I'm doing. But it's so important that we have to shine in areas that supermarkets and the big chains do not."