It's not uncommon to find family-run pet shops, but at Pet Food Supplies in Macclesfield, Cheshire, Irene Astbury is still serving – at 93 years of age! Sandra Pearce visits to talk to Irene and her granddaughter, Gayle Parks 
Irene Astbury is something of an institution in Macclesfield – the great-grandmother still puts in a 40-hour week at the pet shop she and her husband started in 1981, and absolutely refuses to consider retirement. She works because she wants to, not because she has to. "What on earth would I do? I'd be bored out of my mind," she said. "Besides, I like coming in here; I like all these people and they all look after me. And a lot of my customers are now friends who have seen the family grow up.
"My gran lived until she was 102, so I've got quite a few years left in me yet. I'm not going anywhere."
Three years ago, Irene scooped a Lifetime Achievement Award at the Cheshire Woman of the Year Awards. "Every day interests me. I enjoy coming in because I meet different people and I like meeting customers," she said.
Granddaughter Gayle Parks said: "This keeps her young and active and customers are so used to seeing her here, if ever she isn't, they immediately ask after her. This is her life."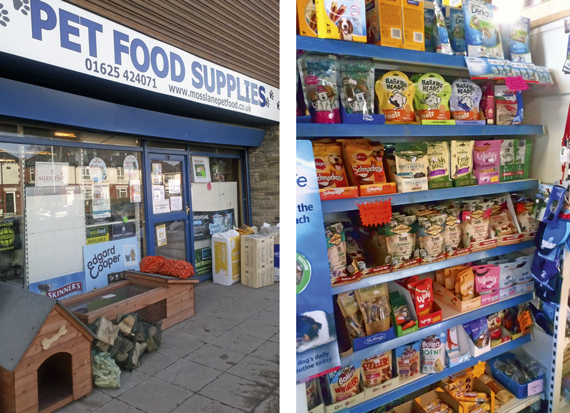 Irene and her husband Les opened Pet Food Supplies, Macclesfield, on March 9, 1981
Irene and her husband Les opened the shop on March 9, 1981 – and took home £9 that day. Les had been a sales rep for Spratt's Dog Food and wanted his own business. Then when a laundrette came up for rent, they decided to convert it into a pet shop and set up their own business.
Les sadly died in 2007 and Irene asked her grandchildren, Gayle and Stuart, to take over the reins of the shop, which they agreed. Gayle had been helping out in the shop ever since she was little and although at the time she was a teacher, she still came in on Saturdays and whenever she was free to help her grandparents.
The shop has gone from strength to strength and some of the changes the brother and sister oversaw included fitting new shelving and increasing the shop space by making the stock room smaller, allowing for more products to go on display. Although Stuart is still involved, his role is smaller as he is now employed at management level elsewhere.
Branching out
In the last couple of years, there have been two major changes in the store. The first was the move into second-hand equestrian clothing and accessories. "Equestrian is big around here," said Gayle, who owns two horses and rides, along with her young daughters. "There was another store that was selling equestrian products and both of us would refer customers to each other as most horse owners own dogs," she said.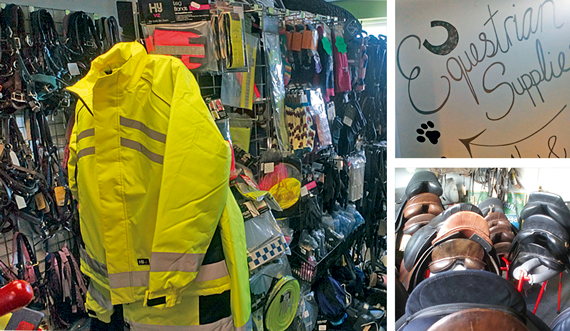 Three units upstairs were converted from offices and now house an extensive range of equestrian products, with absolutely everything from saddles to clothing
When that shop closed due to retirement, Gayle saw an opportunity. Especially as directly above Pet Food Supplies were three derelict office units that had not been rented out in years. A deal was struck with the landlord and they set about cleaning and refurbishing the units and knocking through a wall to create access from the shop to the staircase that led to the units.
"The rooms were old, mouldy, in terrible condition," said Gayle. "It took a lot of money and effort to clean them up and create the access to the staircase."
Filling the units with brand-new products would have been very costly, so she decided to trial second-hand equestrian sales – they would display items that horse owners wished to sell and charge a 20% commission when the products sold.
"It works both ways. The sellers don't have to pay delivery charges as people come here to look and buy, and we don't have to pay for stock," she said. "People are now coming from all over the area and the system seems to work well. Many never knew of our existence and, as many have dogs, it's brought us new pet customers as well."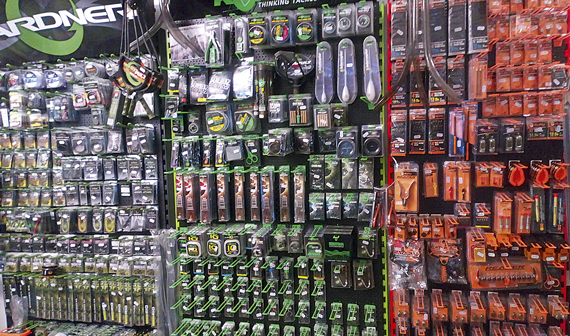 Displays are changed regularly to keep interest high
The second big change was the addition of fishing tackle and bait about five months ago. By coincidence, a local shop had closed, again due to retirement, and fishing hobbyists had nowhere else to go.
"Our customers were asking for it and we decided to give it a go," she said. "None of us knew anything about fishing, but I have a friend who is a customer and who goes fishing. One night we sat down with a few catalogues and we went through them, and we made a list as to what he thought would sell.
"I then had the reps in to talk and they told me about their best-sellers, and so I was able to come up with a list. We've since had a bit of training and it's going well," she said. So well that they are already bringing in more brands. And learning about the products was not as difficult as getting used to handling live maggots…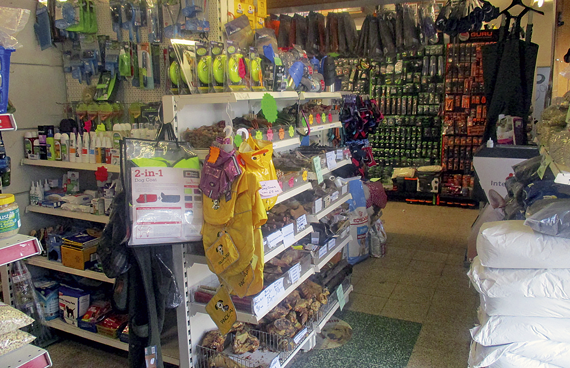 It's all about listening to customers and responding to their needs, whether in the case of queries about equestrian products and fishing bait, or even questions about canine behaviour and nutrition. For example, Pet Food Supplies has recently started late-night shopping every second Thursday, again due to requests. "It certainly helps our customers who work, and some nights have been very busy," she said.
"Gayle never stops, she's always busy and thinking of new things for the shop," said Irene.
A busy person always finds time
Speaking of busy, Gayle is certainly that. Apart from running the shop, which now has six part-time staff, Gayle also runs a toddler group, is committee chairperson of a pre-school, on the Parent-Teachers Association of a primary school and organises the yearly Macclesfield Family Fun Day.
"I like being busy," she said. "From about the age of 12, I was already working part-time."
Now in its fourth year, the Macclesfield Family Fun Day is a highly successful show that raises money for local charities. This year it is moving to the local rugby club and will feature a main ring of attractions and demonstrations as well as a dog show.
There are trade stalls, refreshments and a bar, a funfair, pony rides and indoor stalls. The event  strengthens community spirit as well as benefiting local and national charities, and also helps advertise the store – after close to 40 years, they still get new customers who say they never knew of the shop's existence!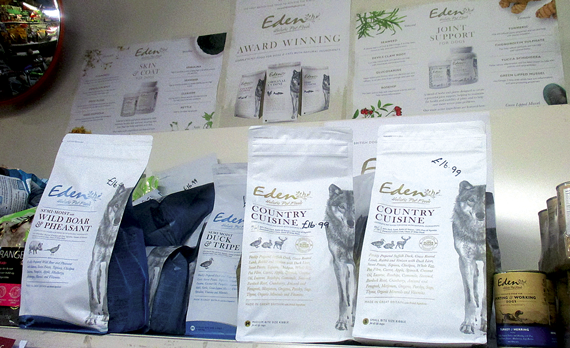 This year, Gayle has enlisted the help of Eden Pet Foods to support the day. "I wanted a brand that is not in Pets at Home or in grocery and Eden is a fantastic brand and is the closest you can get to raw in a kibble."
Speaking of Pets at Home, the chain's nearest branch is literally a three-minute drive away. "It nearly killed us when it opened about 15 years ago," she said. "It took a lot of money off us, about £1,000 a week."
Irene added: "Everybody had to go and have a look, didn't they? It's like everything new."
But their customers returned and Gayle makes it a priority to stock items that are not found in grocery or in Pets at Home. "I am always looking for stuff they do not do," she said.
Times change
Over the years, things have changed. For instance, James Wellbeloved, Royal Canin, Hill's and Beta are all slowing in terms of sales while brands such as Burns and Eden are showing increased sales, she said. Big bags sell well and these feature prominently on the two delivery slots she does every week.
Sometimes there is a cyclical pattern for pet food. "Going back 20 years, we used to have two massive freezers for frozen raw," she said. "Then it quietened down and we went to one and now we have two freezers in the shop, two in the back and get several deliveries a week. We also sell frozen cat food. It's customer demand."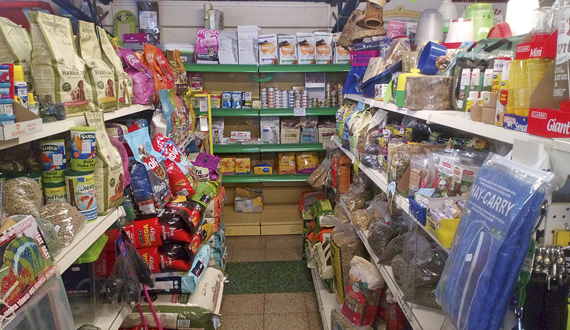 Wild bird food is a huge seller, especially in winter, and manufacturer loyalty cards are very popular with customers. Over the years, there has been a marked rise in demand for natural food and treats, and brands like Carnilove have done really well, as have natural treats like rabbit's ears and venison skin with the fur on.
The rise of the internet and social media is, of course, a huge change, and Gayle relies heavily on Facebook for her publicity. In fact, she has two pages, one for the shop and one for the equestrian products.
Videos seem to attract the most attention. When she recently listed a new clumping cat litter, she uploaded a short film that demonstrated its clumping abilities. Within a week it had more than 1,600 views and the product sold out instore. "I never did anything like that before, but I will be doing lots more," she said.
An eye on the future
Pet Food Supplies is bursting at the seams. "We need a larger shop," she said. "If something came up locally, I'd certainly take a look, but we do have to keep an eye on costs like rates."
At the moment, they do have some storage in the shape of two containers out back and somehow they always manage to find space for new arrivals. But for now, there's lots to keep everyone occupied – apart from the Macclesfield Family Fun Day in May, they launched their web shop in January and will slowly add more items. Getting an EPoS system is on the agenda as they are still using an old-model cash register that does not read barcodes and so stocktaking is done by walking around the shop with a paper and pen.
And the family tradition looks like it is carrying on into the next generation – Gayle has three children aged nine, six and four, and her eldest daughter loves coming into the shop. "She can use the till and helps serve customers. She just likes it."
Long may it continue.