Award-winning Redpaw Pet Supplies is a large store in Plympton, just outside Plymouth, that came from humble beginnings and an emotional bequest from a loved one. Pbwnews editor Justine Thompson spoke to owner Sammie Hunt as she faced up to the latest challenge for retailers ­- coronavirus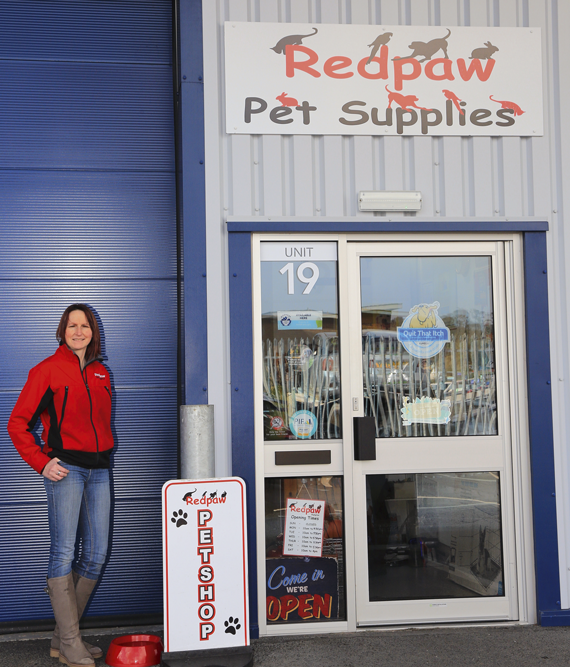 Redpaw Pet Supplies' owner Sammie Hunt 
Redpaw Pet Supplies' owner Sammie Hunt has never been short of ambition, but when her mother advised her to 'just do what you want in life' she really took it to heart.
The words were especially poignant because Sammie's mum, Pam, had cancer at the time and died shortly afterwards. She left £3,000 for Sammie to put towards fulfilling a dream.
"It wasn't a huge amount of money but what my mum had said to me really hit home. I didn't want to spend it on a holiday or fritter it away – it had to be something important," said Sammie.
This was in 2013, when Sammie was working full time but at weekends was fully immersed in the world of pets and animals, particularly dog showing. She owned show whippets and was particularly interested in natural foods and treats, especially after one of her whippets, Gracie, developed pancreatitis and could only be helped by diet.

Sammie also provides plenty of choice in the treats department
Unable to find the sort of nutrition she wanted for her dog, she sourced her own products locally in Devon and started taking them to shows and events to sell. People soon began requesting the natural treats wherever she was, so Sammie used her mother's bequest to make a bulk order.
"It just took off!" said Sammie: "Within six months I couldn't store enough of them at my house. It was time to do be brave and take the plunge."
She set about finding a storage solution for her increased stock, initially with the idea of going full time to sell them at fairs and shows. However, she met the landlord of a lock-up facility in Plympton, just outside Plymouth, who commented that it also had a shop-front facility – and the first ever Redpaw retail outlet was born.
With a background as a dog handler for the MoD – frequently working with nutritionists and veterinary teams – and then as a health and safety officer for a chain of abattoirs, Sammie knew her stuff about animal feed products and was confident about what she could source and her ability to provide specialist knowledge. It was important to her that she was able to give customer service and advice, alongside quality feed products for dogs, cats and small animals, as well as toys and accessories.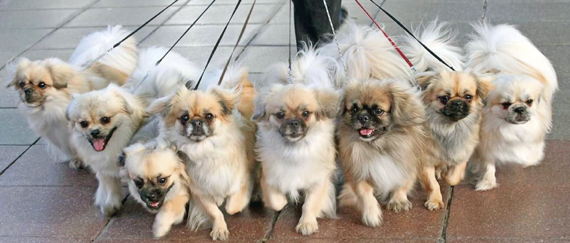 Best friend,Tina Quest's team of show dogs, the 'world famous' Chenrezi Tibetan Spaniels sponsored by Redpaw
With her professional experience to back her up, Sammie attended her first PATS show in 2014 at Sandown and came back with a whole host of contacts and fresh ideas for the shop. She soon became known across Devon for specialising in natural foodstuffs and healthy, quality products that could not easily be found elsewhere. This turned out to be a recipe for success and within a year Sammie could barely believe it, but she needed an even bigger shop.
Again, her landlord came up trumps and in 2016 she took over the lease for new premises that was double the size at 1000 sq ft.
"I was having a panic attack signing the five-year lease, but I still went ahead and did it. My mum's advice was ringing in my ears," said Sammie.
TEAM EFFORT

That was five years ago and, although it has been hard, she hasn't looked back. Helped by her partner Simon, who comes in on Mondays to support in the shop so that she can have an office day, and best friend Tina Quest who acts as senior buyer and PA. Redpaw proudly sponsors Tina's team of show dogs, the 'world famous' Chenrezi Tibetan Spaniels, who have previously won top honours at Crufts in the Breeder Competition. Tina says her show team have benefitted hugely from the change to Redpaw food and supplements.  Sammie says she has great friends around her. "I couldn't do it without them, nor my two assistants Victoria and Marie. Together they cover the shop and have a broad range of expertise around dog and cat, but also small animal. Marie is really into hedgehogs and wildlife…so we have it all here!" said Sammie.
OWN BRAND 
Two of the areas Sammie is particularly proud of are her own Redpaw brands of dog and cat feeds and her amazing array of larder freezers, housing unusual and premium raw foods not only for dogs and cats, but also frozen live fish food like blood worms, and reptile feeds like mice and chicks.
The Redpaw brands of feed are made to Sammie's owncspecification. The grain-free dog food is 50% meat with a base of sweet potato, so that it is easy to switch between the nine varieties without unsettling the dog's stomach. There is also a 'Superfood' range of 65% meat and botanicals, and an Evolution range of 80% mixed fish for high-energy working dogs, which is particularly appreciated by customers who like to feed raw but want to feed biscuit in the morning or to use as an alternative to raw when they are travelling.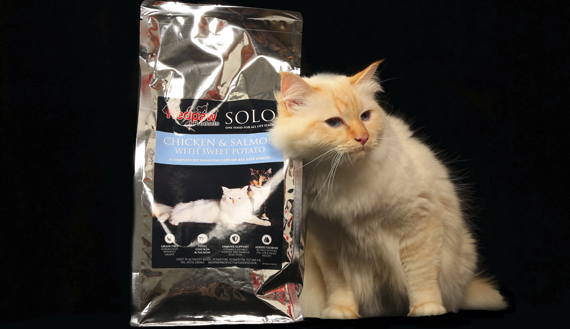 Sammie's cat, Solo, was the inspiration behind her own-brand cat food
Sammie uses her own-brand dog feeds to engage with customers on a number of levels. She will talk to them about the merits of the different feeds for their individual dog and make recommendations dependent on its circumstances or dietary needs. Sometimes she has referrals in from the local vets when they have finished undertaking tests and ascertained that the animal needs special attention to its diet, or even just to support owners who need help with their pet's weight.
Another aspect, however, is that she is in charge of the packaging and uses this to her advantage for promotions and engagement on social media: "I can't stress too much how important social media has been to me in developing the business," said Sammie.
"One example is I run a competition for customers to have a photo of their dog on the packaging. Not everybody wants to enter but they will all join in posting in photos of their pets on Facebook and having fun with it. Then they will keep on coming back. I frequently have customers coming into the shop saying they've read about a new nutritional supplement or a new toy on Facebook, Instagram or Twitter and they've come in to see it."
Cat owners are equally as important and Redpaw also has a premium food for cats, named after Sammie's Birman cat, Solo. He was the only one of his litter, hence the name, and has been extremely successful in the show ring, achieving the coveted status of Grand Master Champion Cat.
Packaginging shows both him and Sammie's other cat, Claws.
Solo cat food is 75% meat, while there is also a Redpaw Grain-Free cat range containing 60% meat, available in a variety of sizes including a breeders' size of 7.5kg.
A keen proponent of raw feeding, and always on the look-out for something new or different, Sammie decided she wanted the shop to offer a broad variety of raw feeds available in a number of sizes, so that customers could pick-and-mix to their pets' requirements. "It's all very well ordering direct," she said "but then you are tied to one particular brand. The way I do it people can mix brands or take a small or large amount as they need. They don't necessarily have to have a huge freezer-full in one go."
FROZEN – IN ALL VARIETIES

She started off with two small chest freezers at the original shop but then, at another PATS pet industry show, she met Steve Prior from Cold Store Rentals. He offered her a walk-in freezer which revolutionised the amount of raw product they could sell – but Sammie didn't stop there.
"I started off with a huge freezer built with six glass doors so customers could really see what they were getting. I had it for about six months. Then I went to PATS Telford in the autumn last year and sat down with Steve for a cup of tea…he nearly choked on it when I told him I needed even more freezer space!"
The Plympton shop now has 11 glass-door freezers build in an L shape, with additional storage out the back for some of the less visually appealing items. Customers can come into the shop, see what's on offer and choose to take as much or as little as they like. The size of the freezers means Sammie is not constantly needing to restock and they have proved very popular.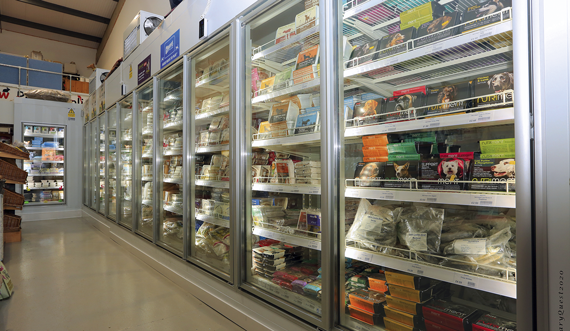 Redpaw's amazing bank of freezers
"It's a big ongoing investment but it has been so worth it," said Sammie. "I would say our turnover has doubled since installing the freezers and I can only recommend it to anyone who is interested in doing the same.
"At Redpaw we are passionate about recycling. By making small changes such as making most of our own-brand packaging compostable and introducing recycle bins for black plastic food trays, we are trying to educate and encourage our customers to be more environmentally responsible."
Sammie's entrepreneurial spirit has already been recognised outside of Devon. In 2018 Redpaw Pet Supplies was winner of the Independent Pet Retailer of the Year Award at the Pet Industry Federation Awards, something she later said meant the world to her after all the emotional commitment and sheer hard work involved in building up the business: "I am so proud of my business and the team's achievements. It has definitely made all the low and very hard moments worthwhile."
Being Sammie, however, she is not one to rest on her laurels. She is looking to launch her own-brand frozen raw offer later this year, and all this in-between studying part-time for a degree in Animal Health and Science at Plymouth University.
"Yes, I am mad," she said. "When I think back to what I've done over the years, and what I'm still doing now, even I feel exhausted. But then – what else would I be doing? I'm following my dreams and loving every moment."
AND THEN CAME CORONAVIRUS
As if Sammie didn't have enough on her hands, like every other retailer she was hit like a bolt from the blue by the coronavirus pandemic. Following the government announcement of a widespread shutdown on March 23, her shop was inundated by customers 'panic-buying' double and treble orders of pet food.
"Customers were already coming in wanting to buy three bags of food," she said. "I was having to tell them to buy one and order two online because I couldn't keep up in the shop."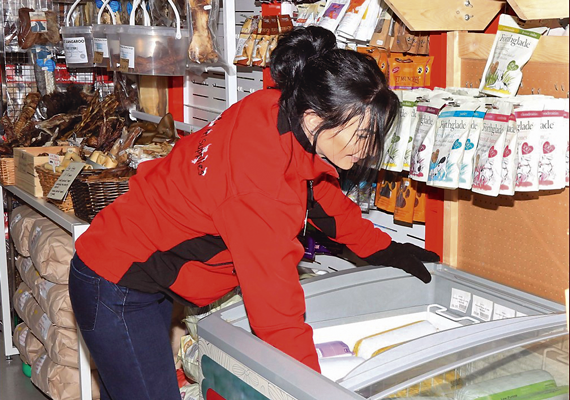 Redpaw team member Victoria

Once Sammie realised what was happening, she felt that, as well as keeping her customers supplied with all their pets' needs, she wanted to do something to help the community more widely.
So she set up a separate website offering to deliver a box of household essentials for £30, either alongside pet deliveries or separately for people in the village who could not get out.
"It just went mad. On the first day I had 50 orders," said Sammie, who is not making a profit on the boxes, which contain everyday items such as toilet roll and baked beans.
"It's good to be able to help the community out and it is good for business if I'm honest. More people have said they will be coming to me for their pet food and have been willing to swap to my brands."
Sammie also set-to with social distancing and keeping everyone safe, and has now asked customers wishing to go to the shop to pre-order their goods for collection only, or order via the online service. Customers are also able to order weekly 'treat boxes' to help keep their pets amused.
Now that things are settling down from the initial rush, Sammie is thinking through her next steps to support the store and customers in the coming months. She regularly updates her website with stock levels and new introductions and has added more products to meet daily demand, such as a small pet section. In addition she is intending to add a wildlife section.
Sammie said: "I think it will be nice for customers to be able to enjoy birds in gardens at this time, it gives them a simple way to add to their normal order. "
Thinking of her customers as ever, she's also launched some competitions for customers to take part in and feel involved, one for adults and one for children.
"This is so important to keep customers interested. I just feel it helps to provide some positives at this unprecedented time we're all going through."