Josh and Rachel have plenty of ideas and are quick to adapt to the ever-changing economy

Ginger & Browns, joint Gold winner of the 2020 PetQuip UK "Retailer of the Year award, is co-owned by Josh Beeston and Rachel Spencer. Here Josh explains the concept behind their rustic 'hub' store in Cheshire, which very much has the themes of community, sustainability and animal welfare at its heart.
Ginger & Browns is on a converted farm site alongside more than 30 other shops and businesses. In fact our store is in a former pig barn. We opened in March 2016 on Good Friday, as we knew that Easter was the busiest weekend of the year until Christmas, and wanted to maximise our exposure.
Rachel and I had been in talks with the landlord since before Christmas but, with multiple solicitor delays, we finally had the keys with exactly two weeks to spare. So we worked flat-out, 7am to 1am, for 14 days straight, pulling in favours from family and friends, to turn our barn into a contemporary, high-end pet store. We completed all of the work ourselves, and recycled materials as much as possible, from old pallets for our counter, to scaffold board tables and fruit crates for shelving!
Rachel and I own the shop jointly. We are friends and business partners. We met when we both worked as research technicians at the University of Liverpool in the Mammalian Behaviour and Evolution science research group. We were on annual contracts, but when I was told there was just one more year of funding left on my research project, it was time for a rethink.
We had both worked closely together for four years and trusted each other's work ethic, diligence and quality, so began to discuss different business ideas.
Particularly, how we could apply our degrees in animal behaviour, and bio-veterinary science, our love of animals and in particular our own pet dogs, along with our scientific career backgrounds. We wanted to fill a niche in the market: to become an evidence-based environment where pet owners could get modern, up-to-date products and support.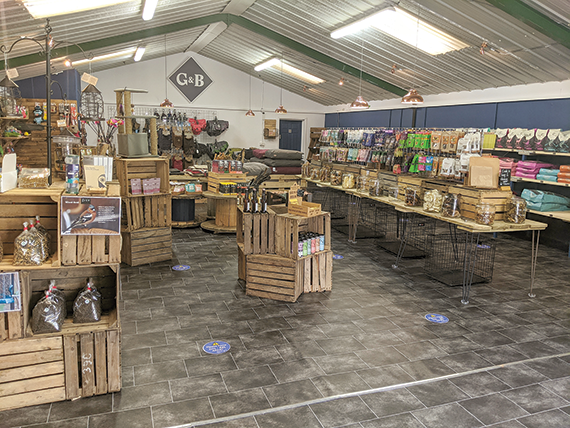 We quickly became aware that we were not aiming ourselves at the mass market. The supermarkets, Pets at Home etc, have that market very well sussed and are very successful. The market we were pitching to was around the type of person who wants to support local, independent businesses looking to build a reputation for fair prices, quality products and great customer service. So we began to search for premises where other independent shops that shared our ethos were succeeding. As a shop on the high street, you rely somewhat on your neighbours not to let the side down, to equally attract custom and make the high street worth the visit.
After months of searching lovely towns such as Knutsford and cities such as Chester, we were really struggling to find a property large enough. Often properties had vanished from the market within hours of being advertised!
Finally we found Blakemere Village in late 2015. We loved the aesthetic and feel of the site. Each business is independent and the space was large enough: we had found our premises!
PLANNING AHEAD
We had a year's notice and so we spent the entirety of 2015 planning. We came up with a huge variety of different business ideas, four of which now exist – our shop, our online shop, Tail Mail (our subscription service for dogs), and our groomers.
We got to grips with the basics of running a business and our obligations as directors. We researched everything and identified products we felt were the best on the market. We contacted suppliers and producers and, by the end of it, felt we could justify every single item in our store-to-be.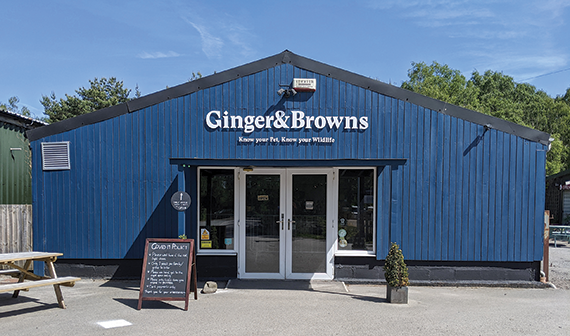 The name Ginger & Browns came from our dogs. At the time we had Fern, my Vizsla, who has ginger fur, and Mally, Rachel's Border terrier with his brown fur. Four years on, Tanna the duck toller (ginger) and Bracken the German short-haired pointer (brown), joined us. So we now have two ginger and two brown dogs, hence Ginger & Browns. The name has much more of bakery-type feel to it and we felt that, ultimately, the bakery, rustic-type feel was exactly what we wanted.
So we had the name but describing the store was harder. 'Pet shop' as a phrase evokes a particular memory and feeling. When you walk into a pet shop, you might expect to hear birds cheeping, fish tanks bubbling, the smell of rodent bedding mixed with dog chews and sacks of food filling your nose. Dog beds piled in the corner and aisle shelving packed with everything you need for your pets.
'Boutique' equally didn't quite fit the bill. For us, boutiques aren't in a barn, they're not rustic etc, they are very clear in their market. We felt that we would not be meeting customer expectation if we called ourselves a boutique.
So, even to this day, we're not quite sure what word best describes us. We view ourselves as a hub in a way; a focal point for our local community where they can be put in contact with trainers, behaviourists, find local walks, get dietary advice for their dogs, buy products, get their dog groomed etc. As we continue to expand, we think the shop will become part of a broader picture and maybe a hub or a centre as a more inclusive term will become ever more applicable.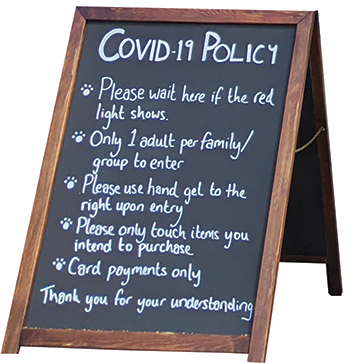 We both work in the store and we currently only have one other member of staff, who is our groomer. Covid-19 has made us put our plans to expand our team on hold. 2020 was supposed to be our big year as, over the course of the last 12 months, we have physically quadrupled in size. For now we're running all of that ourselves, but as the economy begins to settle we will look to forge forward with expanding our team.
We were very proactive in our response to covid-19. We anticipated lockdown and began to put in place every possible payment method we could think of, from payments in store and online, to over the phone or through the glass of people's living room window on contactless devices. However people needed to pay, we ensured we could accommodate it.
As lockdown began, we closed our groomers and ordered in the Perspex screens, hand sanitisers and everything else but, of course, so had other people and they took several weeks to arrive. While we waited, we turned into a delivery and click-and-collect service, so that nobody had to physically enter the shop.
Measures in our shop start outside, where there are socially distanced floor queue markers leading up to a blackboard giving customers the rules for entering. A traffic light sits at the entrance – when it's green it's safe for the next customer to enter the store, but we can turn it to red if it begins to get busy. In store there are floor markers, a hand sanitisation station, Perspex screens and new procedures for fitting harnesses, collars and coats for size etc.
We noticed two large jumps in sales during this period. One was when lockdown rules eased, to allow non-essential travel. People appeared more willing to consider travelling to shop with us. The second jump was when non-essential retail re-opened. We were asked multiple times if we were pleased to be open again, and customers were surprised to learn that we had been open the whole time.
EVOLUTION OVER TIME
Happily, we've received a huge amount of support, compliments and return custom over the last four years. Our turnover has increased drastically since those opening months, which has allowed us to expand rapidly. At the core of what we try to offer our customers is the concept of quality and appropriate products, sold at a fair price.
This time last year, we had the opportunity to take on the lease of our neighbouring unit. With this unit we built a grooming salon, purpose-built for aiding dog behaviour. From having individual groom rooms for each dog instead of a larger room with multiple dogs and having Adaptil diffusers running, to using products like Lickimats to make the whole process a positive one, the groomers embodies the ethos of the shop. It has been really popular and well received. From a purely business perspective, services like dog grooming simply cannot be done online and the shop also benefits from the increased visitors who pop in because they are already here.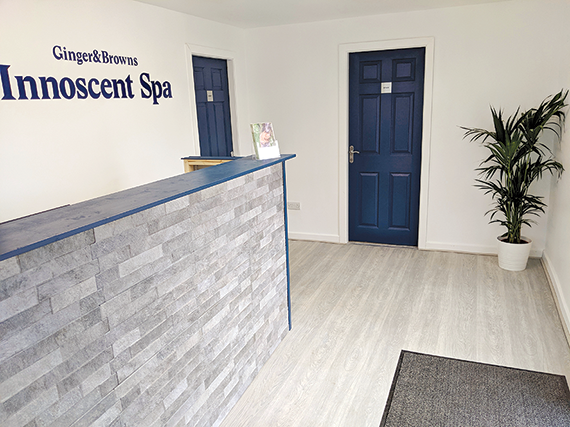 The Innoscent Spa groomers brings in additional customers and its dog-friendly ethos has been a big hit with owners and their pets
At the start of this year, another neighbouring property directly attached to our shop became vacant and we took the lease on, knocking down the wall to expand so that we're now twice the size. This has meant that we are able to offer a much wider product range, from collars, coats and harnesses to foods, toys and health products. It's really cemented our position as a reliable place to shop as well as a quality place with a pleasant experience.
Beyond the usual marketing strategies such as advertising on social media, in local advertisers and attending events, we have worked hard to become a pillar of our community. This means that we have sought out trainers and behaviourists in our area who use modern, evidence-based positive techniques. We supply them with graduation goody bags for their training classes and find a good return as clients then locate us. Similarly, we have good relationships with veterinary practices and receive frequent referrals for dietary advice or for grooming sessions for dogs that may require sedation to perform welfare-clips.
ONLINE AND SUBSCRIPTION
Online is a very different business experience to our physical store. Competition is much more real and it's boundary-less. If you can post something, it doesn't matter where in the world you're located. Our generic online shop is certainly where we learnt this. It's gradually changed over the last couple of years and now we do enjoy orders from customers up and down the country. Generally, it's the items that you can't find in most places that people order from us.
We launched Tail Mail with this lesson in mind. Tail Mail is a subscription service where we charge a monthly fee and send customers a monthly box. When we launched there were around 30 others doing this, the largest from Germany and America, but now there are many more and even several in Cheshire alone. So we decided to differentiate ourselves by allowing customers to fill out a questionnaire, which we use to personalise their box to their dog. Instead of every subscriber receiving the same box, each receives a box tailored to their dog. If you have a puppy, we send puppy appropriate items; if your dog has an allergy to chicken, we won't send items containing chicken. This key difference has allowed us to attract a subscriber base in a competitive market. The shop is key to this, because we have access to a large stock inventory that standalone subscription boxes simply don't enjoy. It's all led to Tail Mail being recognised by the Independent newspaper as one of the best pet subscription boxes in the country.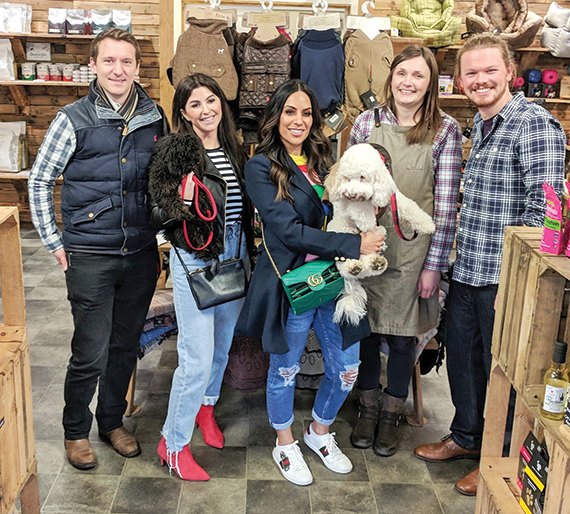 Ginger & Browns even featured in reality TV programme Real Housewives of Cheshire. From left to right: Tom Spencer (Rachel's husband), Stacey Forsey, Seema Malhotra, Rachel Spencer and Josh Beeston
During lockdown, we launched a new website called All Natural Dog Chews. The site only sells chews, which is a response to just how popular they are in store! By offering them specifically online their small size and weight in comparison to the variation between a bag of treats, a 15kg bag of dog food and a dog bed, means that we can consolidate our shipping costs right down and then subsidise them, removing that barrier to ordering online. We launched during lockdown to help owners give their dogs things to chew and keep them quiet and occupied while they worked from home, attended video calls etc.
As you can probably tell, we are always thinking up new ideas and looking to adapt to the ever-changing economy and zeitgeist of the market. If we didn't do that we would stagnate and fade away. Although there are areas of our shop that are recognisable from four years ago, and our values remain the same, the vast majority of it has changed over time.
As for the future, we have a large, lean-to at the rear of our shop that we can renovate. We are currently researching a concept that we're keeping under our hats for now but it's around supporting dog behaviour and we're very excited about it. Watch this space!