Norfolk-based Naturediet has invested heavily in its green credentials, with a £1.5m investment in Tetra Pak® packaging – a first for the UK pet market
For 18 months, Tetra Pak® pretty much lived on site at Naturediet's factory in Thetford, the UK's first-ever Tetra Pak facility for pet food. In doing so, Naturediet joined a select group of three pet food manufacturers in Europe who use Tetra Pak, the other two being in Sweden and Spain.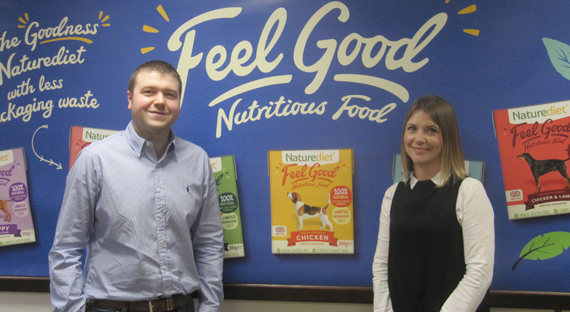 Daniel and Emily are both excited about future possibilities
It took a solid year of testing, said Naturediet's head of sales and marketing Emily Cannon. "It's as much an investment for them as it is for us," she said.
Plastic trays have their limitation, such as in the single-use plastic film that seals each tray, she said. But Tetra Pak, well, it just kept ticking all the right boxes. For one, Tetra Pak packaging is made from 75% paperboard, which is recyclable just like any other paper or card. Though it has an aluminium barrier and plastic lining, it is now widely recyclable in the UK and Tetra Pak has invested in its own recycling plant where the material is turned into other products.
Oxidation rates are better with Tetra Pak rather than plastic trays, ensuring a longer shelf-life, and the packs are more efficient to transport. "The product is just so much better," she said.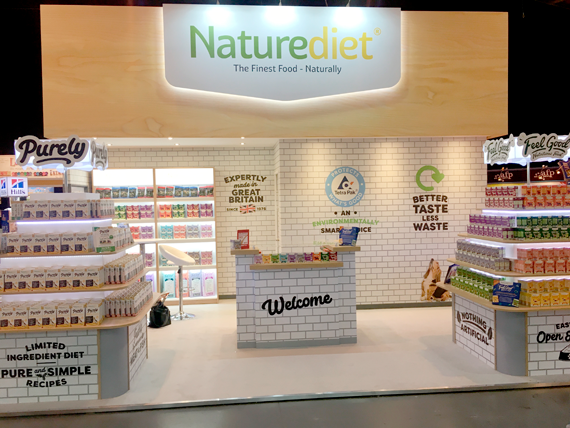 The PATS shows are a good way to meet independent retailers
At PATS Telford last year, Naturediet revealed the new packaging. It was keenly aware it would have to have a number of discussions with consumers and retailers as Tetra Pak – for the moment, at any rate – is not a recognised packaging format in the pet food sector.
She said: "We know there will be challenges in educating customers. Although people know Tetra Pak, they think of it as juices, dairy, chopped tomatoes but not meat. And we do not want people to think of it as a liquid. Also, although the packaging is smaller than what we had before, it contains the same amount of food. Yet when you look at quality control, it is more robust, there's less chance of damage to the product, such as through seal contamination, and it is more efficient to transport.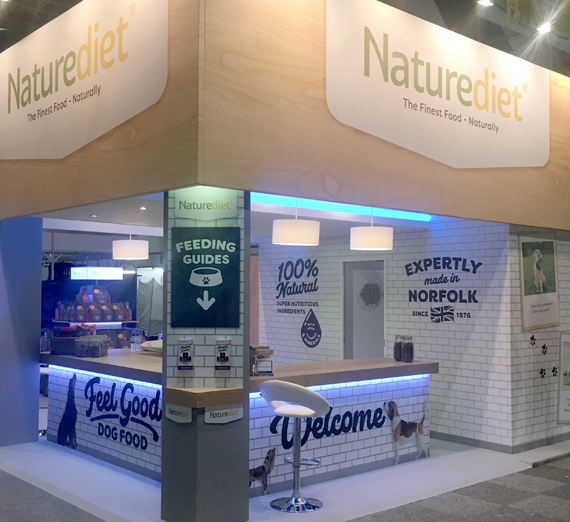 Crufts presents a fantastic opportunity to talk to hundreds of customers face to face
"We could not find any fault with it. The only challenge was in launching something that has been in market for 40 years with something different. However, our relationship with Tetra Pak is very positive and they are committed to this and are supporting us in getting the product understood by consumers."
A number of marketing initiatives have been planned across all channels, with support for independents instore as well as online, and of course Crufts will give the team a chance to engage one-on-one with existing and new customers.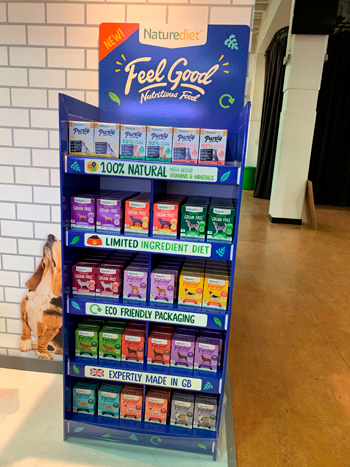 The new free standing display unit has a small footprint
The switch has already resulted in a new customer – upon seeing that Naturediet had swapped to Tetra Pak, Finland's Musti Ja Mirri pet chain took on its entire range for all its 220 stores. In Nordic regions, Tetra Pak is the main packaging, said Emily. "Cans and pouches are placed on the bottom shelf, and the amount of Tetra Pak on shelves is incredible. They are really way ahead of the UK on this front."
But this is not the only green initiative. For instance, all its ingredients are sourced in the UK, with 40% coming from Norfolk and Suffolk. The factory has also switched from kerosene to the more-efficient LPG to power its boiler, and solar panels are on the cards.
Naturediet's eco-conscious philosophy was recognised at the recent PIF Awards where it picked up the award for Sustainability.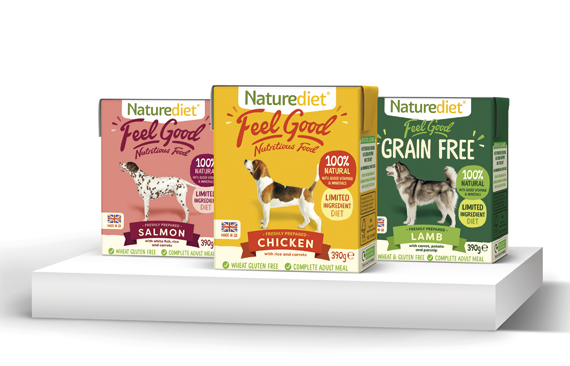 The Feel Good core range in new TetraPak packaging
Humble beginnings
Naturediet was founded in 1976 by Robin Orrow, who was looking for a good quality, natural dog food for his dogs. The pioneer was soon producing a completely natural food from a small unit near his home in Surrey, but ended up moving to a purpose-built facility in Shipdham, Norfolk, in 2006, thinking that would last 20 years. But in 2014, full capacity meant Naturediet had to move to new premises, and it took over the 63,000sq ft site in Thetford.
Today, though Robin has retired, the business is still firmly in family hands as his wife Carol and nephew Daniel Masters are the two directors. It's fortunate there are only two shareholders, says Daniel who joined the business in 2004, as it means decisions can be made quickly and they can keep their eye firmly on the long-term goal, keeping true to their roots as an independent family business. All investment is down to cash generated by the business or asset financed, and this facilitates steady growth. Investment in machinery is nudging the £5m mark, with the Tetra Pak investment representing £1.5m. Employing 30 staff, the factory runs 16 hours over five days, but there is ample room for expansion and it could easily double output without any further investment – at the moment, it produces 6,000 packs an hour, approximately 200 tonnes each week.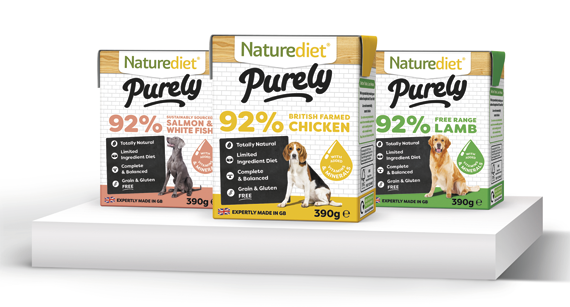 Purely came about as a result of customer requests at Crufts
The entire line is fully automated, so staffing is minimal and in theory could run without human intervention. There's a rhythmic choreography as the packaging works its way along the various conveyor belts, from first being placed on the line to being filled with products, the cartons being sealed then washed, dried and X-rayed to check for metal, plastic, glass or wood contaminants before finally being loaded into outers and then shrink-wrapped in cases on pallets.
However, the 2014 move did not go smoothly and initially there were manufacturing issues with the plastic trays and the company came under fire. Emily said: "A lot of lessons were learned the hard way from 2014.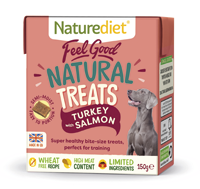 Another first for the UK – treats are also now available in TetraPak
We are very much now building relationships with independents. We know that as a brand, there is a lot of work to do to improve our relationship with the natural pet food sector. For us, it's key that we develop strong relationships with our retailers and wholesale partners."
For one, the business now has three sales reps who have spent the last 12 months visiting retailers, including those that 'have not had much of a relationship with us over the years'. There has been good success from such accounts and the team has made progress reinstating key accounts, she said. The company has also stripped back its previous sales strategy and is working closely with a few account partners to 're-establish the brand to the right audience' – heavy discounting is not a strategy the company wishes to pursue.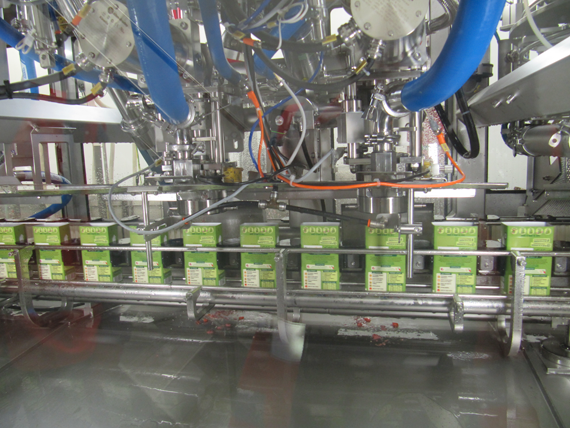 The entire TetraPak line is automated
"As a manufacturer, of course volume is important, but it's the quality of that volume that counts. Our focus is now firmly on the independent channel, and we realise we had not worked as closely with retailers as we perhaps should have," she said.
The relaunch and new packaging is the clearest signal that the company has embarked on a new road with a new strategy and mindset. "We are not in supermarkets and this route to market is not a priority," she said. "We acknowledge that we have more work ahead of us to rebuild our brand with those businesses that helped start us. Naturediet created a brilliant product that was innovative at the time, but because of the manufacturing issues in 2014, there is a lot of trust that needs to be regained."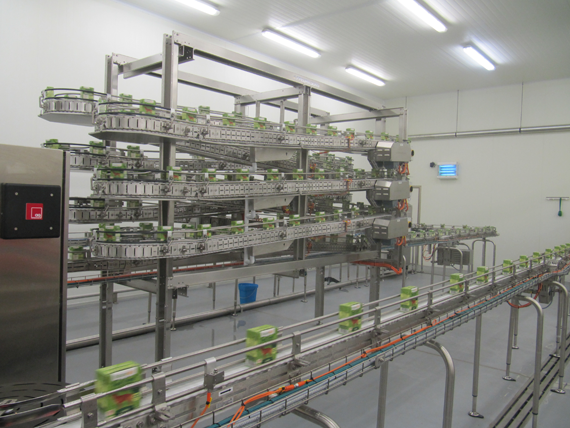 It's almost mesmerising to watch the cartons on the production line
Growing specialists
A large number of Naturediet customers are dogs with allergies and intolerances, and many of their owners say that Naturediet seems to be the only product that they can offer their pets. "What we know is that Naturediet is about simple, high-quality meats, carbs and veg that dogs will not have any reaction to. So we do not use beef or pork, because of intolerance. Eighty percent of our sales come from our key eight skus in our Feel Good range, which comprise Robin's traditional recipe of high-quality meat, rice and veg," she said.
Its complete, 92% meat Purely Range of grain-free food (with chicken, lamb and fish recipes) was the direct result of customer queries at Crufts last year. "So many customers came on stand looking for a diet for their dogs that was even more limited in the range of ingredients that we already had, so no botanicals, no veg, no herbs."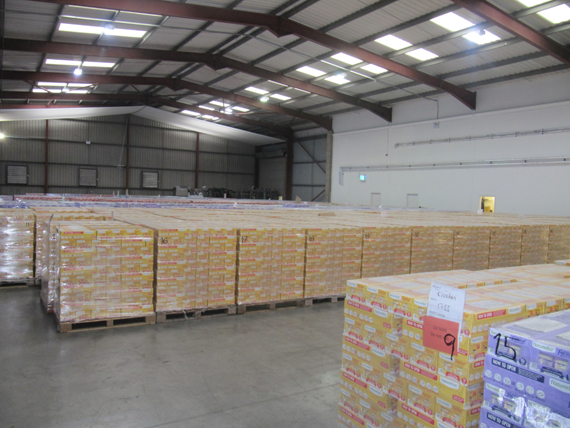 Stock waiting in the warehouse
Having been around for more than 40 years, there is a core group of loyal customers who stayed with the company through thick and thin. Emily said: "Naturediet has a really good product, but it did not shout about it. It's a very innovative manufacturer, but now's the right time to get out there and promote what we do as an independent British manufacturer.
"We are a pet specialist brand and we want to maintain control of that. As such, we are focusing on the independent and putting our energies into the independent."
Naturediet is now available through wholesalers Bestpets and Glenkrag in Ireland, though some retailers also purchase direct.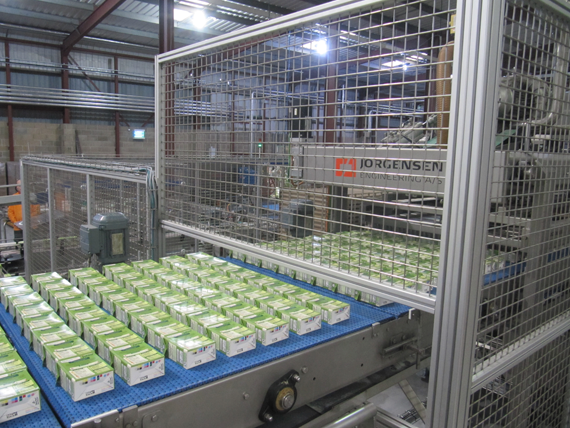 Current output is 6,000 packs an hour
The company has also made available a huge range of point of sale, and there will be further investment into the sales team to improve communication and relationships with retailers across the country.
Moving forward
The natural pet food category is saturated, and as Naturediet was a pioneering founder, its history puts it in good standing. As does the fact that it manufactures all of its food within the UK – pet owners would probably be very surprised if they realised just how many popular natural brands were actually made outside of the UK, she said.
Apart from its focus on the independent, Naturediet is actively engaging with pet owners and its big push is Crufts, where it spends the bulk of its marketing budget. "Last year's Crufts was our record; we trebled our takings," she said. "It's such a nice opportunity to talk to owners, especially those who have stood by us through thick and thin. If you get your stand right and have the right team, it's money well spent and is completely the right arena."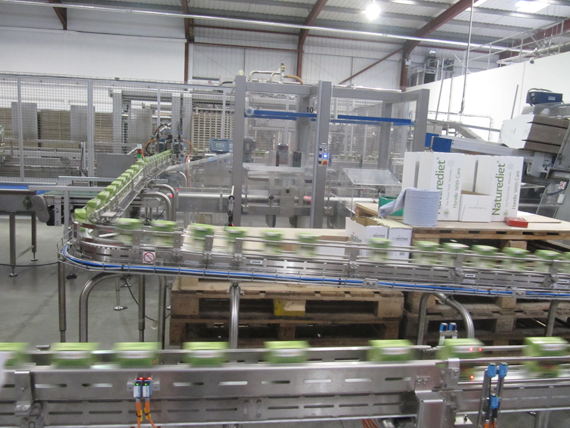 Cartons are sealed, washed, dried and X-rayed to check for contaminants
This year, apart from its new packaging, Naturediet will also be showcasing its treats and dry food range, which it launched some two-and-a-half years ago but which were never top of the marketing agenda.
In another first for the UK, Naturediet will be using Tetra Pak for its semi-moist natural treats which will be available in 150g cartons this month. It is also the first to produce wet food in a 200g carton.
For the moment, the bulk of its sales are in the UK, but it is pursuing several export leads, with a focus on the Nordic countries where Tetra Pak is widely used. "The advantage here is that there is no need for education by us on the benefits and advantages of Tetra Pak as they already get it," she said.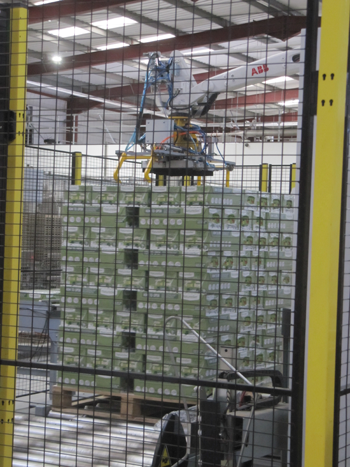 All pallets are shrink wrapped
"We also stand by our honest labelling; we do not push any claims and we can validate everything we say on our packaging. Integrity is really, really important for the business. Our objective is to continue to produce a high-quality, good-value product, with minimal environmental impact. We remain invested in the pet specialist channel and serving our loyal customer base.
"It's such an exciting place to be – we've been through some hard times, have taken risks and a few steps backwards, but these challenges will enable us to take the business forward."