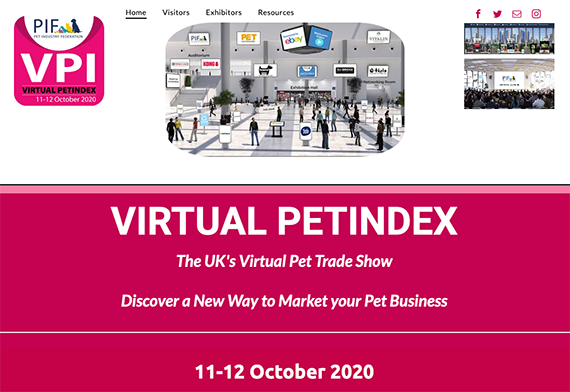 Virtual Petindex (VPI), the UK pet industry virtual trade show, is now open for visitor registration.
The event organised by the Pet Industry Federation (PIF) runs in a virtual venue over two days on October 11 and 12. Visitors can attend from the comfort of their laptops, smartphones or other devices and registration is free.
PFI says the show will provide a unique platform for visitors to access new suppliers without all the associated costs of visiting a traditional trade show, and is an event aimed at engaging pet industry exhibitors and visitors from across the world.
Exhibitors at the online event will be able to talk to trade visitors through live interaction tools that can be accessed from any device. Visitors will be able to browse virtual stands, take away relevant information on companies and brands and watch a range of live and 'on-demand' webinars on topics relevant to the pet industry all delivered by high-quality speakers.
Nigel Baker, PIF CEO, said: "In the face of the continued disruption to the pet industry caused by the covid-19 restrictions, VPI provides a lifeline for businesses in our industry to connect with other businesses, both in the UK and overseas.
"Building on the success of our first event in June, which attracted over 60 trade stands and had over 1,700 visitor registrations, we are adding new features such as a new product area, improving navigation and limiting numbers in each 'exhibition hall' to improve the experience for both visitors and exhibitors alike."
Trade visitors can access:
> Free registration
> Webinars and presentations from industry experts
> New products
> Product promotions and discounts
> Online ordering
> Real time communication with exhibitors
Virtual Petindex will remain open for 14 days after the live days so buyers and exhibitors can still connect after the trade show.
To find out more about the VPI and to register to attend, please visit www.petindexshow.com