Dogstival 2020, one of the few festivals to take place this year, celebrated a 'pawfect' weekend with more than 6,500 attending across the two days.
Organisers say the event for dogs and dog-lovers, set in Burley Park in the heart of the New Forest, basked in sunshine and provided guests a taste of normality and 'a huge portion of fun'.
Dogs took centre stage as Dogstival's VIPs, as owners took the opportunity to reward and thank their personal canine heroes who've helped them through what has so far been a difficult year.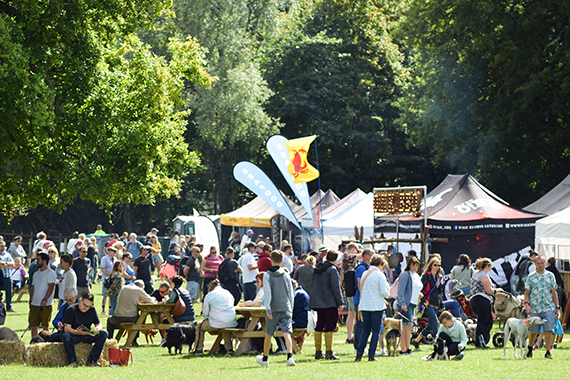 Picture by Harry Smith Photography
The weekend, sponsored by insurer Purely Pets, was packed full of canine and human entertainment with main arena displays and activities such as agility, flyball, scent challenges or the new Gun Dog Village. For four-legged water lovers, there was also Stand Up Paddle Boarding for dogs and owners and a giant K9 Diving Pool. More than 100 stands sold every doggy delight imaginable, so plenty went home laden with treats, too!
THANK YOU
Domine Nowell, from organiser Lighthouse Marketing, said: "We are absolutely delighted with the response to our event Dogstival that took place at our new stunning home of Burley Park. Around 6,500 people attended across the weekend with their dogs of all shapes and sizes. It's been a tough few months for everyone and dogs are in integral part of our families, they have looked after us during lockdown, so we wanted to say thank you back! At Dogstival the dogs are the VIPs for the day.
"With lovely weather and a vast open space, it proved to be the perfect outdoor socially-distanced day out. With lots of additional measures in place for everyone's safety we hope this paves the way for other well managed events to go ahead safely."
Elizabeth Mills, brand manager at Purely Pets, headline sponsors of Dogstival, added: "We had a fantastic weekend; the weather, venue and all the fun activities for dogs and owners made it a fun event for all. It was also lovely to meet some of our existing customers and make some new furry (and non-furry!) friends."
The event raised vital funds and awareness for a number of charities after what has been a very hard period in terms of fund raising. With so many events cancelled, Dogstival was delighted to support Pets as Therapy, Medical Detection Dogs, Hearing Dogs for Deaf, Sunny Shores and Canine Partners through event programme sales and the fun dog show entries.
Dogstival will return in 2021 at a soon-to-be-announced date.