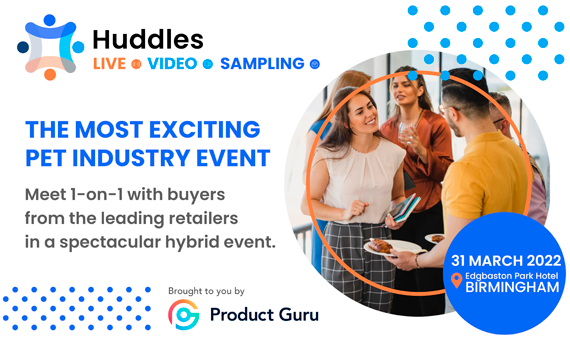 Online B2B platform Product Guru is to host a new pet industry event next month as part of a series of boutique gatherings called "Huddles" in 2022.
The first "Pet Huddle" event will take place on March 31 at the Edgbaston Park Hotel in Birmingham. The gathering will bring together up to 50 challenger pet care brands and a line-up of retailers and supermarket chains.
Brands will have time slots to engage with every buyer in a series of face-to-face meetings or hybrid sessions combining video pitches with product sampling for international suppliers who are not able to attend in person. A third option will offer brands the opportunity to reach attendees with samples of their products for buyers to give their feedback.
Product Guru will provide devices and connected technology for all buyers to log feedback and track future follow-up actions. Participants will also have the option to attend a networking evening.
Simon Coyle, CEO of Product Guru, said the new in-person events are an important step up from their previous virtual pitch events.
He said: "Over the past couple of years, we have worked closely with disruptive brands and retailers, supporting them in the journey to get innovative products discovered and listed.
"With our virtual pitch events and online platform, we have developed close relationships with many big retailers, and we are about to harness these connections to offer brands a life-time opportunity to engage with buyers live."